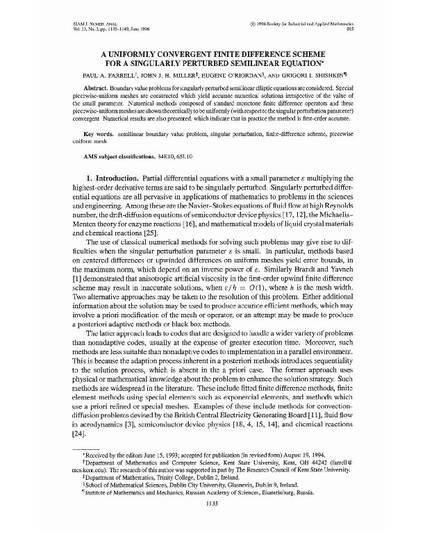 Article
A Uniformly Convergent Finite Difference Scheme for a Singularly Perturbed Semilinear Equation
SIAM Journal on Numerical Analysis
Publication Date
6-1-1996
Keywords
semilinear boundry value problem,
singular peturbation,
finite-difference scheme,
piecewise uniform mesh
Abstract
Boundary value problems for singularly perturbed semilinear elliptic equations are considered. Special piecewise-uniform meshes are constructed which yield accurate numerical solutions irrespective of the value of the small parameter. Numerical methods composed of standard monotone finite difference operators and these piecewise-uniform meshes are shown theoretically to be uniformly (with respect to the singular perturbation parameter) convergent. Numerical results are also presented, which indicate that in practice the method is first-order accurate.
Citation Information
Paul A Farrell, John J. H. Miller, Eugene O'Riordan and Grigori I Shishkin. "A Uniformly Convergent Finite Difference Scheme for a Singularly Perturbed Semilinear Equation"
SIAM Journal on Numerical Analysis
Vol. 33 Iss. 3 (1996) p. 1135 - 1149
Available at: http://works.bepress.com/paul_farrell/6/