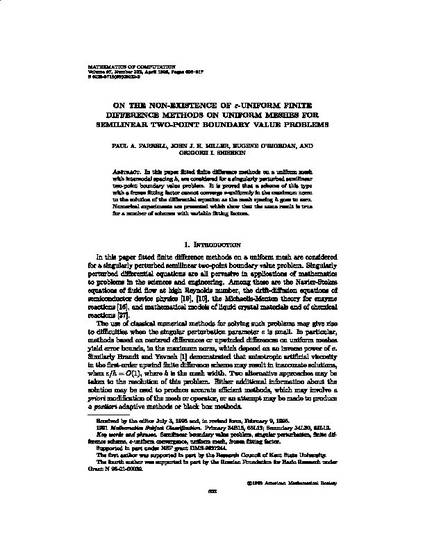 Article
On the Non-Existence of [Epsilon]-Uniform Finite Difference Methods on Uniform Meshes for Semilinear Two-point Boundary Value Problems
Mathematics of Computation
Publication Date
4-1-1998
Abstract
In this paper fitted finite difference methods on a uniform mesh with internodal spacing h, are considered for a singularly perturbed semilinear two-point boundary value problem. It is proved that a scheme of this type with a frozen fitting factor cannot converge epsilon-uniformly in the maximum norm to the solution of the differential equation as the mesh spacing h goes to zero. Numerical experiments are presented which show that the same result is true, for a number of schemes with variable fitting factors.
Citation Information
Paul A Farrell, John J. H. Miller, Eugene O'Riordan and Grigori I. Shishkin. "On the Non-Existence of [Epsilon]-Uniform Finite Difference Methods on Uniform Meshes for Semilinear Two-point Boundary Value Problems"
Mathematics of Computation
Vol. 67 Iss. 222 (1998) p. 603 - 617
Available at: http://works.bepress.com/paul_farrell/2/