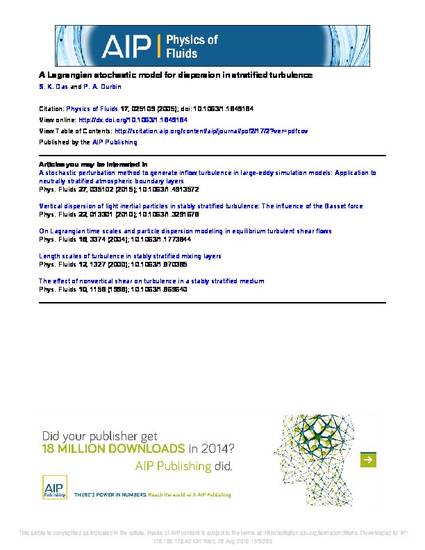 Article
A Lagrangian stochastic model for dispersion in stratified turbulence
Physics of Fluids (2005)
Abstract
In this paper we discuss the development of a Lagrangian stochastic model (LSM) for turbulent dispersion of a scalar (species). Given any tensorally linear second-moment closure (SMC) turbulence model we show how to derive a mathematically equivalent set of stochastic differential equations (SDEs), i.e., the second-moment equations constructed from these SDEs are exactly the same (within a realizability constraint) as the given SMC. This set of equations forms the LSM. Both turbulence anisotropy and buoyancy effects are incorporated by this method. In order to achieve the correct critical Richardson number and to obtain the simplest Lagrangian formulation, a revised set of constants for the isotropization of production model is proposed. They improve agreement with experiments. The LSM is applied to homogeneous shear flow with varying degrees of stratification. Our model is shown to capture important physics associated with buoyant flows and we also parametrize our results. Finally the form of the current model is compared with a few of the well-known Lagrangian stochastic models.
Keywords
anisotropy,
buoyancy,
differential equations,
mathermatical models,
matrix algebra,
random processes,
shear flow,
turbulence,
Langrangian stochastic model,
stochastic differential equations,
stratified turbulence,
turbulent flow,
dispersion,
flow modeling,
Langrangian analysis,
stratified flow,
turbulent flow,
dispersion,
Lagrangian analysis,
turbulent flow
Citation Information
S. K. Das and Paul A. Durbin. "A Lagrangian stochastic model for dispersion in stratified turbulence"
Physics of Fluids
Vol. 17 Iss. 2 (2005)
Available at: http://works.bepress.com/paul_durbin/1/