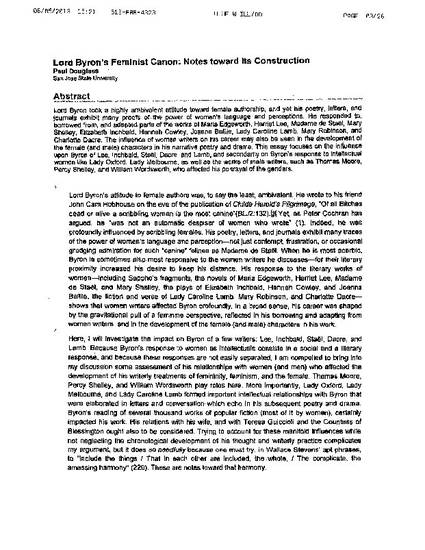 Article
Lord Byron's Feminist Canon: Notes Toward Its Construction
Romanticism on the Net (2006)
Abstract
Lord Byron took a highly ambivalent attitude toward female authorship, and yet his poetry, letters, and journals exhibit many proofs of the power of women's language and perceptions. He responded to, borrowed from, and adapted parts of the works of Maria Edgeworth, Harriet Lee, Madame de Staël, Mary Shelley, Elizabeth Inchbald, Hannah Cowley, Joanna Baillie, Lady Caroline Lamb, Mary Robinson, and Charlotte Dacre. The influence of women writers on his career may also be seen in the development of the female (and male) characters in his narrative poetry and drama. This essay focuses on the influence upon Byron of Lee, Inchbald, Staël, Dacre, and Lamb, and secondarily on Byron's response to intellectual women like Lady Oxford, Lady Melbourne, as well as the works of male writers, such as Thomas Moore, Percy Shelley, and William Wordsworth, who affected his portrayal of the genders.
Publication Date
August, 2006
Citation Information
Paul Douglass. "Lord Byron's Feminist Canon: Notes Toward Its Construction"
Romanticism on the Net
Vol. 43 (2006) ISSN: 1467-1255
Available at: http://works.bepress.com/paul_douglass/15/