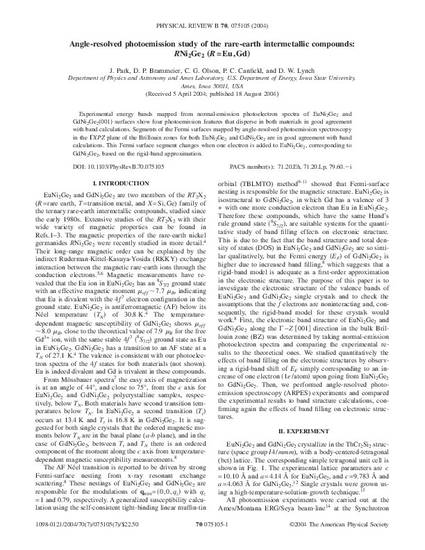 Article
Angle-resolved photoemission study of the rare-earth intermetallic compounds: RNi2Ge2(R=Eu,Gd)
Physical Review B
Publication Date
8-1-2004
DOI
10.1103/PhysRevB.70.075105
Abstract
Experimental energy bands mapped from normal-emission photoelectron spectra of EuNi2Ge2 and GdNi2Ge2(001)surfaces show four photoemission features that disperse in both materials in good agreement with band calculations. Segments of the Fermi surfaces mapped by angle-resolved photoemission spectroscopy in the ΓXPZ plane of the Brillouin zones for both EuNi2Ge2 and GdNi2Ge2 are in good agreement with band calculations. This Fermi surface segment changes when one electron is added to EuNi2Ge2, corresponding to GdNi2Ge2, based on the rigid-band approximation.
Copyright Owner
The American Physical Society
File Format
application/pdf
Citation Information
Joong Mok Park, D. P. Brammeier, C. G. Olson, Paul C. Canfield, et al.. "Angle-resolved photoemission study of the rare-earth intermetallic compounds: RNi2Ge2(R=Eu,Gd)"
Physical Review B
Vol. 70 (2004) p. 075105-1 - 075105-7
Available at: http://works.bepress.com/paul_canfield/75/