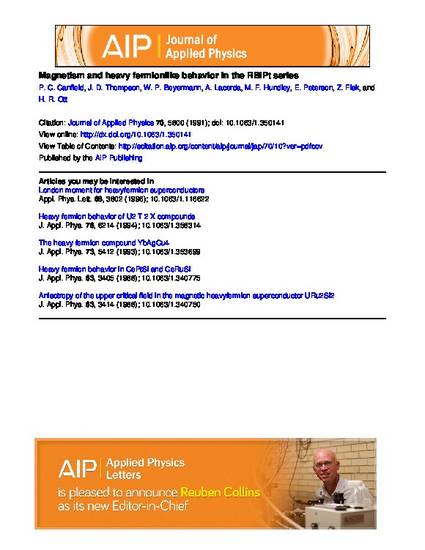 Article
Magnetism and heavy fermion‐like behavior in the RBiPt series
Journal of Applied Physics (1991)
Abstract
Members of the RBiPt (R=Ce–Lu with the exceptions of Pm and Eu) series have been grown as single crystals.Magnetic susceptibility and electrical resistance have been measured on all members of the series, and specific heatmeasurements have been performed on representatives. The high temperature resistance uniformly changes from that of a small‐gap semiconductor or semimetal seen in NdBiPt to that of a heavy‐fermion metal seen in YbBiPt, which shows a linear coefficient of specific heat at low temperatures of 8 J/K2 mole. Further, the lighter rare earth members show an unusually sharp increase in their resistance associated with antiferromagnetic ordering at low temperatures.
Keywords
Electrical resistivity,
Heat capacity,
Magnetic susceptibility measurements,
Antiferromagnetism,
Crystalline semiconductors
Citation Information
Paul C. Canfield, J. D. Thompson, W. P. Beyermann, A. Lacerda, et al.. "Magnetism and heavy fermion‐like behavior in the RBiPt series"
Journal of Applied Physics
Vol. 70 Iss. 10 (1991)
Available at: http://works.bepress.com/paul_canfield/45/