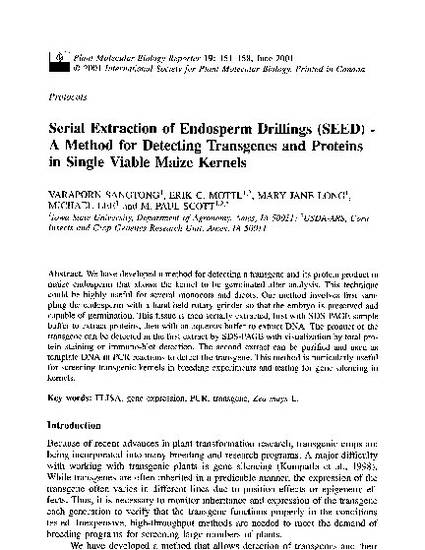 Article
Serial extraction of endosperm drillings (SEED)—A method for detecting transgenes and proteins in single viable maize kernels
Plant Molecular Biology Reporter
Publication Version
Published Version
Publication Date
6-1-2001
Abstract
We have developed a method for detecting a transgene and its protein product in maize endosperm that allows the kernel to be germinated after analysis. This technique could be highly useful for several monocots and dicots. Our method involves first sampling the endosperm with a hand-held rotary grinder so that the embryo is preserved and capable of germination. This tissue is then serially extracted, first with SDS-PAGE sample buffer to extract proteins, then with an aqueous buffer to extract DNA. The product of the transgene can be detected in the first extract by SDS-PAGE with visualization by total protein staining or immuno-blot detection. The second extract can be purified and used as template DNA in PCR reactions to detect the transgene. This method is particularly useful for screening transgenic kernels in breeding experiments and testing for gene silencing in kernels.
Rights
Works produced by employees of the U.S. Government as part of their official duties are not copyrighted within the U.S. The content of this document is not copyrighted.
File Format
application/pdf
Citation Information
Varaporn Sangtong, Erik C. Mottl, Mary Jane Long, Michael Lee, et al.. "Serial extraction of endosperm drillings (SEED)—A method for detecting transgenes and proteins in single viable maize kernels"
Plant Molecular Biology Reporter
Vol. 19 Iss. 2 (2001) p. 151 - 158
Available at: http://works.bepress.com/paul-scott/65/