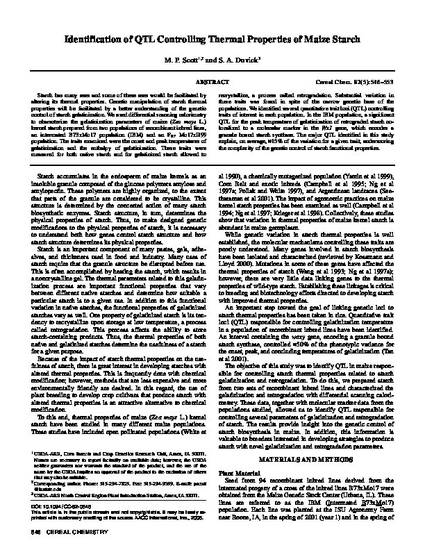 Article
Identification of QTL Controlling Thermal Properties of Maize Starch
Cereal Chemistry
Publication Version
Published Version
Publication Date
1-1-2005
Abstract
Starch has many uses and some of these uses would be facilitated by altering its thermal properties. Genetic manipulation of starch thermal properties will be facilitated by a better understanding of the genetic control of starch gelatinization. We used differential scanning calorimetry to characterize the gelatinization parameters of maize (Zea mays L.) kernel starch prepared from two populations of recombinant inbred lines, an intermated B73xMo17 population (IBM) and an F6:7 Mo17xH99 population. The traits examined were the onset and peak temperatures of gelatinization and the enthalpy of gelatinization. These traits were measured for both native starch and for gelatinized starch allowed to recrystallize, a process called retrogradation. Substantial variation in these traits was found in spite of the narrow genetic base of the populations. We identified several quantitative trait loci (QTL) controlling traits of interest in each population. In the IBM population, a significant QTL for the peak temperature of gelatinization of retrograded starch co-localized to a molecular marker in the Wx1 gene, which encodes a granule bound starch synthase. The major QTL identified in this study explain, on average, ≈15% of the variation for a given trait, underscoring the complexity of the genetic control of starch functional properties.
Rights
Works produced by employees of the U.S. Government as part of their official duties are not copyrighted within the U.S. The content of this document is not copyrighted.
File Format
application/pdf
Citation Information
M. P. Scott and S. A. Duvick. "Identification of QTL Controlling Thermal Properties of Maize Starch"
Cereal Chemistry
Vol. 82 Iss. 5 (2005) p. 546 - 553
Available at: http://works.bepress.com/paul-scott/62/