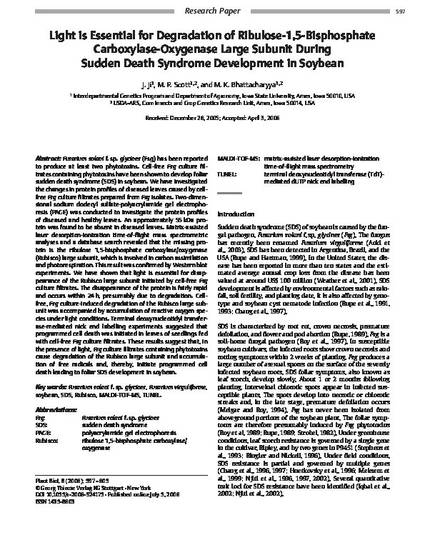 Article
Light is Essential for Degradation of Ribulose-1,5-Bisphosphate Carboxylase-Oxygenase Large Subunit During Sudden Death Syndrome Development in Soybean
Plant Biology
Publication Version
Published Version
Publication Date
1-1-2006
DOI
10.1055/s-2006-924175
Abstract
Fusarium solani f. sp. glycines (Fsg) has been reported to produce at least two phytotoxins. Cell-free Fsg culture filtrates containing phytotoxins have been shown to develop foliar sudden death syndrome (SDS) in soybean. We have investigated the changes in protein profiles of diseased leaves caused by cell-free Fsg culture filtrates prepared from Fsg isolates. Two-dimensional sodium dodecyl sulfate-polyacrylamide gel electrophoresis (PAGE) was conducted to investigate the protein profiles of diseased and healthy leaves. An approximately 55 kDa protein was found to be absent in diseased leaves. Matrix-assisted laser desorption-ionization time-of-flight mass spectrometric analyses and a database search revealed that the missing protein is the ribulose 1,5-bisphosphate carboxylase/oxygenase (Rubisco) large subunit, which is involved in carbon assimilation and photorespiration. This result was confirmed by Western blot experiments. We have shown that light is essential for disappearance of the Rubisco large subunit initiated by cell-free Fsg culture filtrates. The disappearance of the protein is fairly rapid and occurs within 24 h, presumably due to degradation. Cell-free, Fsg culture-induced degradation of the Rubisco large subunit was accompanied by accumulation of reactive oxygen species under light conditions. Terminal deoxynucleotidyl transferase-mediated nick end labelling experiments suggested that programmed cell death was initiated in leaves of seedlings fed with cell-free Fsg culture filtrates. These results suggest that, in the presence of light, Fsg culture filtrates containing phytotoxins cause degradation of the Rubisco large subunit and accumulation of free radicals and, thereby, initiate programmed cell death leading to foliar SDS development in soybean.
Rights
Works produced by employees of the U.S. Government as part of their official duties are not copyrighted within the U.S. The content of this document is not copyrighted.
File Format
application/pdf
Citation Information
J. Ji, M. P. Scott and M. K. Bhattacharyya. "Light is Essential for Degradation of Ribulose-1,5-Bisphosphate Carboxylase-Oxygenase Large Subunit During Sudden Death Syndrome Development in Soybean"
Plant Biology
Vol. 8 Iss. 5 (2006) p. 597 - 605
Available at: http://works.bepress.com/paul-scott/46/