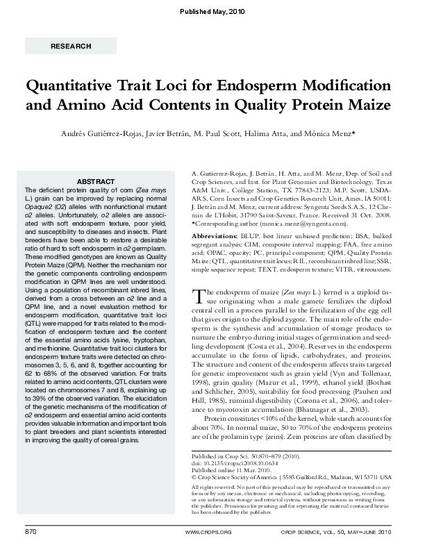 Article
Quantitative Trait Loci for Endosperm Modification and Amino Acid Contents in Quality Protein Maize
Crop Science
Publication Version
Published Version
Publication Date
1-1-2010
DOI
10.2135/cropsci2008.10.0634
Abstract
The deficient protein quality of corn (Zea mays L.) grain can be improved by replacing normal Opaque2 (O2) alleles with nonfunctional mutant o2 alleles. Unfortunately, o2 alleles are associated with soft endosperm texture, poor yield, and susceptibility to diseases and insects. Plant breeders have been able to restore a desirable ratio of hard to soft endosperm in o2germplasm. These modified genotypes are known as Quality Protein Maize (QPM). Neither the mechanism nor the genetic components controlling endosperm modification in QPM lines are well understood. Using a population of recombinant inbred lines, derived from a cross between an o2 line and a QPM line, and a novel evaluation method for endosperm modification, quantitative trait loci (QTL) were mapped for traits related to the modification of endosperm texture and the content of the essential amino acids lysine, tryptophan, and methionine. Quantitative trait loci clusters for endosperm texture traits were detected on chromosomes 3, 5, 6, and 8, together accounting for 62 to 68% of the observed variation. For traits related to amino acid contents, QTL clusters were located on chromosomes 7 and 8, explaining up to 39% of the observed variation. The elucidation of the genetic mechanisms of the modification of o2 endosperm and essential amino acid contents provides valuable information and important tools to plant breeders and plant scientists interested in improving the quality of cereal grains.
Rights
Works produced by employees of the U.S. Government as part of their official duties are not copyrighted within the U.S. The content of this document is not copyrighted.
File Format
application/pdf
Citation Information
Andrés Gutiérrez-Rojas, Javier Betrán, M. Paul Scott, Halima Atta, et al.. "Quantitative Trait Loci for Endosperm Modification and Amino Acid Contents in Quality Protein Maize"
Crop Science
Vol. 50 Iss. 3 (2010) p. 870 - 879
Available at: http://works.bepress.com/paul-scott/43/