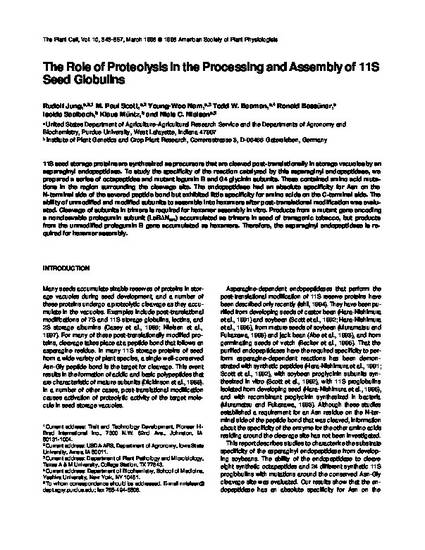 Article
The Role of Proteolysis in the Processing and Assembly of 11S Seed Globulins
The Plant Cell (1998)
Abstract
11S seed storage proteins are synthesized as precursors that are cleaved post-translationally in storage vacuoles by an asparaginyl endopeptidase. To study the specificity of the reaction catalyzed by this asparaginyl endopeptidase, we prepared a series of octapeptides and mutant legumin B and G4 glycinin subunits. These contained amino acid mutations in the region surrounding the cleavage site. The endopeptidase had an absolute specificity for Asn on the N-terminal side of the severed peptide bond but exhibited little specificity for amino acids on the C-terminal side. The ability of unmodified and modified subunits to assemble into hexamers after post-translational modification was evaluated. Cleavage of subunits in trimers is required for hexamer assembly in vitro. Products from a mutant gene encoding a noncleavable prolegumin subunit (LeBΔN
281
) accumulated as trimers in seed of transgenic tobacco, but products from the unmodified prolegumin B gene accumulated as hexamers. Therefore, the asparaginyl endopeptidase is required for hexamer assembly.
Publication Date
March, 1998
DOI
​10.​1105/​tpc.​10.​3.​343
Citation Information
Rudolf Jung, Marvin Paul Scott, Young-Woo Nam, Todd W. Beaman, et al.. "The Role of Proteolysis in the Processing and Assembly of 11S Seed Globulins"
The Plant Cell
Vol. 10 Iss. 3 (1998) p. 343 - 357
Available at: http://works.bepress.com/paul-scott/3/