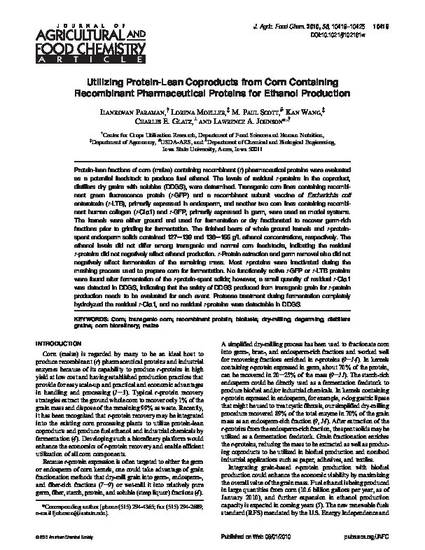 Article
Utilizing Protein-Lean Coproducts from Corn Containing Recombinant Pharmaceutical Proteins for Ethanol Production
Journal of Agricultural and Food Chemistry
Publication Date
1-1-2010
Abstract
Protein-lean fractions of corn (maize) containing recombinant (r) pharmaceutical proteins were evaluated as a potential feedstock to produce fuel ethanol. The levels of residual r-proteins in the coproduct, distillers dry grains with solubles (DDGS), were determined. Transgenic corn lines containing recombinant green fluorescence protein (r-GFP) and a recombinant subunit vaccine of Escherichia coli enterotoxin (r-LTB), primarily expressed in endosperm, and another two corn lines containing recombinant human collagen (r-CIα1) andr-GFP, primarily expressed in germ, were used as model systems. The kernels were either ground and used for fermentation or dry fractionated to recover germ-rich fractions prior to grinding for fermentation. The finished beers of whole ground kernels and r-protein-spent endosperm solids contained 127−139 and 138−155 g/L ethanol concentrations, respectively. The ethanol levels did not differ among transgenic and normal corn feedstocks, indicating the residual r-proteins did not negatively affect ethanol production. r-Protein extraction and germ removal also did not negatively affect fermentation of the remaining mass. Most r-proteins were inactivated during the mashing process used to prepare corn for fermentation. No functionally active r-GFP or r-LTB proteins were found after fermentation of the r-protein-spent solids; however, a small quantity of residual r-CIα1 was detected in DDGS, indicating that the safety of DDGS produced from transgenic grain for r-protein production needs to be evaluated for each event. Protease treatment during fermentation completely hydrolyzed the residual r-CIα1, and no residual r-proteins were detectable in DDGS.
Rights
Works produced by employees of the U.S. Government as part of their official duties are not copyrighted within the U.S. The content of this document is not copyrighted.
File Format
application/pdf
Citation Information
Ilankovan Paraman, Lorena Beatriz Moeller, M. Paul Scott, Kan Wang, et al.. "Utilizing Protein-Lean Coproducts from Corn Containing Recombinant Pharmaceutical Proteins for Ethanol Production"
Journal of Agricultural and Food Chemistry
Vol. 58 Iss. 19 (2010) p. 10419 - 10425
Available at: http://works.bepress.com/paul-scott/23/