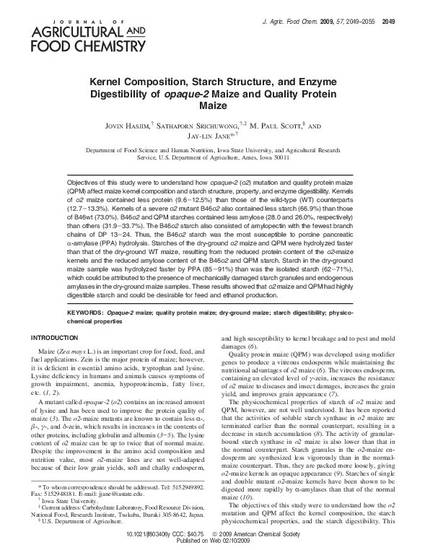 Article
Kernel Composition, Starch Structure, and Enzyme Digestibility of opaque-2 Maize and Quality Protein Maize
Journal of Agricultural and Food Chemistry
Publication Date
2-10-2009
Abstract
Objectives of this study were to understand how opaque-2 (o2) mutation and quality protein maize (QPM) affect maize kernel composition and starch structure, property, and enzyme digestibility. Kernels of o2 maize contained less protein (9.6-12.5%) than those of the wild-type (WT) counterparts (12.7-13.3%). Kernels of a severe o2 mutant B46o2 also contained less starch (66.9%) than those of B46wt (73.0%). B46o2 and QPM starches contained less amylose (28.0 and 26.0%, respectively) than others (31.9-33.7%). The B46o2 starch also consisted of amylopectin with the fewest branch chains of DP 13-24. Thus, the B46o2 starch was the most susceptible to porcine pancreatic R-amylase (PPA) hydrolysis. Starches of the dry-ground o2 maize and QPM were hydrolyzed faster than that of the dry-ground WT maize, resulting from the reduced protein content of the o2-maize kernels and the reduced amylose content of the B46o2 and QPM starch. Starch in the dry-ground maize sample was hydrolyzed faster by PPA (85-91%) than was the isolated starch (62-71%), which could be attributed to the presence of mechanically damaged starch granules and endogenous amylases in the dry-ground maize samples. These results showed that o2 maize and QPM had highly digestible starch and could be desirable for feed and ethanol production.
Rights
Works produced by employees of the U.S. Government as part of their official duties are not copyrighted within the U.S. The content of this document is not copyrighted.
File Format
application/pdf
Citation Information
Jovin Hasjim, Sathaporn Srichuwong, Marvin P. Scott and Jay-Lin Jane. "Kernel Composition, Starch Structure, and Enzyme Digestibility of opaque-2 Maize and Quality Protein Maize"
Journal of Agricultural and Food Chemistry
Vol. 57 Iss. 5 (2009) p. 2049 - 2055
Available at: http://works.bepress.com/paul-scott/21/