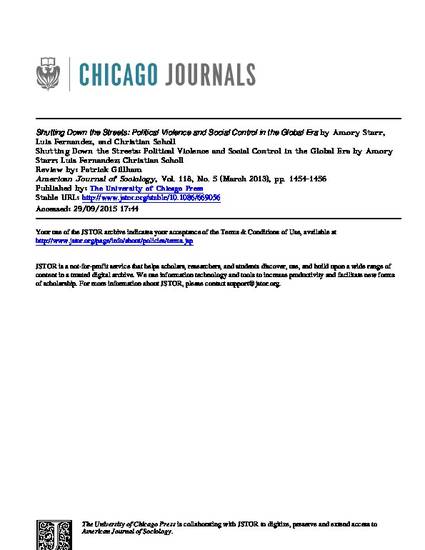 Article
Review of: Shutting Down the Streets: Political Violence and Social Control in the Global Era by Amory Starr, Luis Fernandez, and Christian Scholl
American Journal of Sociology
Document Type
Book Review
Publication Date
1-1-2013
Abstract
There is growing scholarly consensus that since the late 1990s democratic states have shifted in the ways they respond to protest. In the period between the 1970s and 1990s democratic states and their police often placed a premium on the protection of free speech and assembly rights, were relatively tolerant of disruptive protests, communicated openly with activists through an institutionalized permitting process, and showed restraint in the use of force and arrests. Things, however, have changed. Now democratic states selectively protect freedoms of speech and assembly, are less tolerant of disruption, face activists that believe the permitting process is illegitimate, and more readily use force and arrests. In Shutting Down the Streets, Amory Starr, Luis Fernandez, and Christian Scholl adeptly map the new contours of state efforts to control social movements in a global era.
Citation Information
Patrick F. Gillham. "Review of: Shutting Down the Streets: Political Violence and Social Control in the Global Era by Amory Starr, Luis Fernandez, and Christian Scholl"
American Journal of Sociology
Vol. 118 Iss. 5 (2013) p. 1454 - 1456
Available at: http://works.bepress.com/patrick_gillham/14/