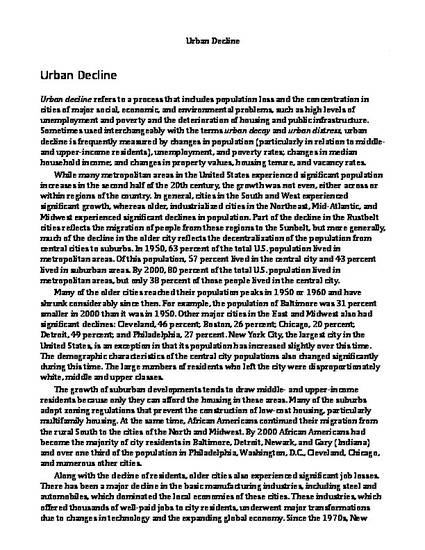 Contribution to Book
Urban Decline
Encyclopedia of Social Problems
Document Type
Encyclopedia Entry
Publication Date
1-1-2008
Abstract
Urban decline refers to a process that includes population loss and the concentration in cities of major social, economic, and environmental problems, such as high levels of unemployment and poverty and the deterioration of housing and public infrastructure. Sometimes used interchangeably with the terms urban decay and urban distress, urban decline is frequently measured by changes in population (particularly in relation to middle- and upper‐income residents), unemployment, and poverty rates; changes in median household income; and changes in property values, housing tenure, and vacancy rates.
Document Version
Published Version
Copyright
Copyright © 2008, Sage Publishing. Distributing, reselling, or any repurposing of the content is not allowed. The content can only reside in the repository of the requesting institution. Sage material is not to be used for commercial MOOCs or any other commercial purposes without permission.
Publisher
Sage Publishing
Place of Publication
Thousand Oaks, CA
Citation Information
Patrick G. Donnelly. "Urban Decline"
Encyclopedia of Social Problems
Vol. 2 (2008)
Available at: http://works.bepress.com/patrick-donnelly/2/