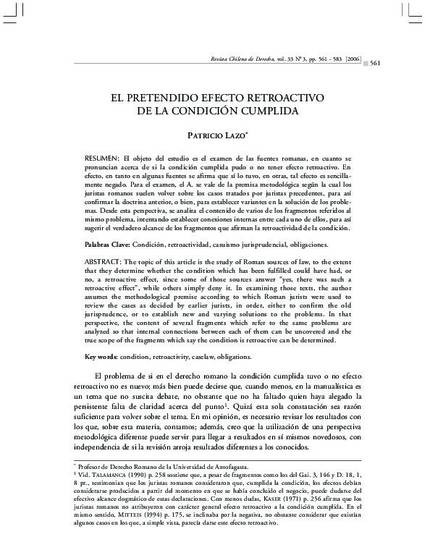 Article
El pretendido efecto retroactivo de la condición cumplida
Revista Chilena de Derecho (2006)
Abstract
The topic of this article is the study of Roman sources of law, to the extent that they determine whether the condition which has been fulfilled could have had, or no, a retroactive effect, since some of those sources answer "yes, there was such a retroactive effect", while others simply deny it. In examining those texts, the author assumes the methodological premise according to which Roman jurists were used to review the cases as decided by earlier jurists, in order, either to confirm the old jurisprudence, or to establish new and varying solutions to the problems. In that perspective, the content of several fragments which refer to the same problems are analyzed so that internal connections between each of them can be uncovered and the true scope of the fragments which say the condition is retroactive can be determined. El objeto del estudio es el examen de las fuentes romanas, en cuanto se pronuncian acerca de si la condición cumplida pudo o no tener efecto retroactivo. En efecto, en tanto en algunas fuentes se afirma que sí lo tuvo, en otras, tal efecto es sencillamente negado. Para el examen, el A. se vale de la premisa metodológica según la cual los juristas romanos suelen volver sobre los casos tratados por juristas precedentes, para así confirmar la doctrina anterior, o bien, para establecer variantes en la solución de los problemas. Desde esta perspectiva, se analiza el contenido de varios de los fragmentos referidos al mismo problema, intentando establecer conexiones internas entre cada uno de ellos, para así sugerir el verdadero alcance de los fragmentos que afirman la retroactividad de la condición.
Publication Date
Summer December 31, 2006
Citation Information
Patricio Lazo. "El pretendido efecto retroactivo de la condición cumplida"
Revista Chilena de Derecho
Vol. 33 Iss. 3 (2006)
Available at: http://works.bepress.com/patricio_lazo/4/