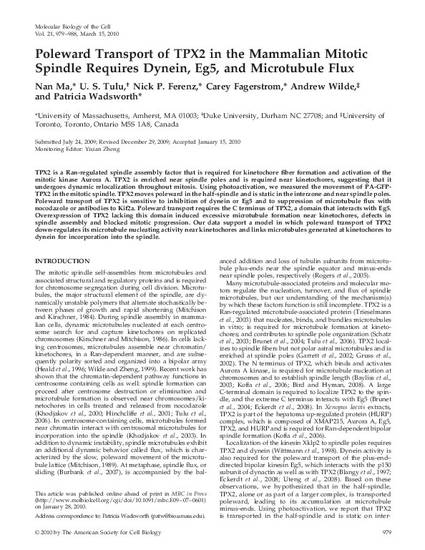 Article
Poleward Transport of TPX2 in the Mammalian Mitotic Spindle Requires Dynein, Eg5, and Microtubule Flux
Molecular Biology of the Cell (2010)
Abstract
TPX2 is a Ran-regulated spindle assembly factor that is required for kinetochore fiber formation and activation of the mitotic kinase Aurora A. TPX2 is enriched near spindle poles and is required near kinetochores, suggesting that it undergoes dynamic relocalization throughout mitosis. Using photoactivation, we measured the movement of PA-GFP-TPX2 in the mitotic spindle. TPX2 moves poleward in the half-spindle and is static in the interzone and near spindle poles. Poleward transport of TPX2 is sensitive to inhibition of dynein or Eg5 and to suppression of microtubule flux with nocodazole or antibodies to Kif2a. Poleward transport requires the C terminus of TPX2, a domain that interacts with Eg5. Overexpression of TPX2 lacking this domain induced excessive microtubule formation near kinetochores, defects in spindle assembly and blocked mitotic progression. Our data support a model in which poleward transport of TPX2 down-regulates its microtubule nucleating activity near kinetochores and links microtubules generated at kinetochores to dynein for incorporation into the spindle.
Citation Information
Patricia Wadsworth, N. Ma, S. Tulu, N. Ferenz, et al.. "Poleward Transport of TPX2 in the Mammalian Mitotic Spindle Requires Dynein, Eg5, and Microtubule Flux"
Molecular Biology of the Cell
Vol. 21 (2010)
Available at: http://works.bepress.com/patricia_wadsworth/1/