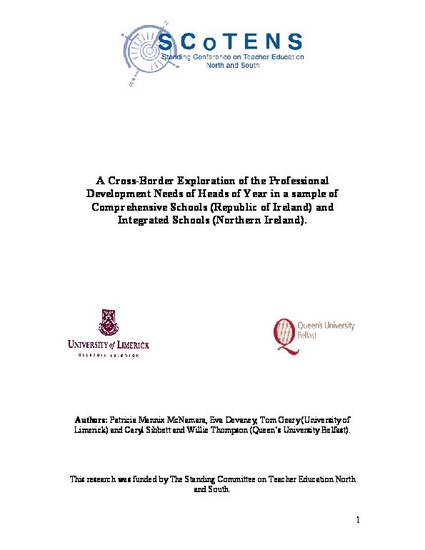 Contribution to Book
A Cross-Border Exploration of the Professional Development Needs of Heads of Year
in a Sample of Comprehensive Schools (Republic of Ireland) and Integrated Schools (Northern Ireland). (2008)
Abstract
Pastoral work in schools is about meeting student needs. However in the context of an increasingly changing society, students' needs are also rapidly changing. The expectation that schools should assume more responsibility for mental health promotion, coupled with an increase in poor mental health and distress among young people, have placed increased pressures on parents and schools (Shucksmith et al. 2005). In schools it is often the pastoral care team, and in particular the year heads, who have to deal with situations that they often feel unprepared for (Wilson et al. 2004, Rothi et al. 2008). It is therefore important to seek the views of year heads specific to their needs for support and professional development to enable them to perform their pastoral care duties more confidently and effectively. There is little published research specific to Northern Ireland (NI) or the Republic of Ireland (ROI) in this area, so this study fills a gap in the literature, in addition to informing policy development and the provision of supports and professional development for year heads on the island of Ireland.
Citation Information
Patricia Mannix McNamara, Eva Devaney, Tom Geary, Caryl Sibbett, et al.. "A Cross-Border Exploration of the Professional Development Needs of Heads of Year"
in a Sample of Comprehensive Schools (Republic of Ireland) and Integrated Schools (Northern Ireland).
(2008)
Available at: http://works.bepress.com/patricia_mannixmcnamara/13/