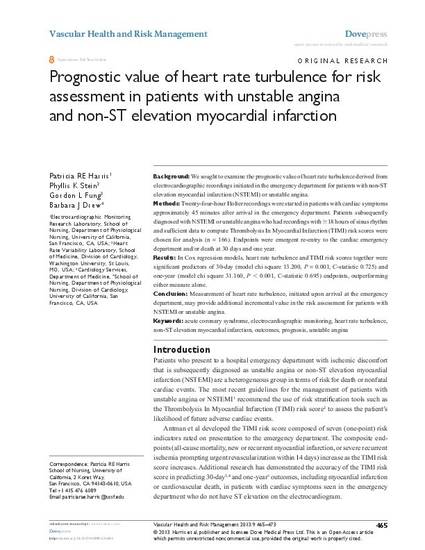 Article
Prognostic Value of Heart Rate Turbulence for Risk Assessment in Patients with Unstable Angina and Non-ST Elevation Myocardial Infarction
Vascular Health and Risk Management
Publication Date
8-1-2013
Abstract
Background: We sought to examine the prognostic value of heart rate turbulence derived from electrocardiographic recordings initiated in the emergency department for patients with non-ST elevation myocardial infarction (NSTEMI) or unstable angina.
Methods: Twenty-four-hour Holter recordings were started in patients with cardiac symptoms approximately 45 minutes after arrival in the emergency department. Patients subsequently diagnosed with NSTEMI or unstable angina who had recordings with ≥18 hours of sinus rhythm and sufficient data to compute Thrombolysis In Myocardial Infarction (TIMI) risk scores were chosen for analysis (n = 166). Endpoints were emergent re-entry to the cardiac emergency department and/or death at 30 days and one year.
Results: In Cox regression models, heart rate turbulence and TIMI risk scores together were significant predictors of 30-day (model chi square 13.200, P = 0.001, C-statistic 0.725) and one-year (model chi square 31.160, P < 0.001, C-statistic 0.695) endpoints, outperforming either measure alone.
Conclusion: Measurement of heart rate turbulence, initiated upon arrival at the emergency department, may provide additional incremental value in the risk assessment for patients with NSTEMI or unstable angina.
Rights
Copyright © 2013 Dovepress.
Creative Commons License
Creative Commons Attribution-Noncommercial 4.0
Citation Information
Patricia R.E. Harris, Phyllis K. Stein, Gordon L. Fung and Barbara J. Drew. "Prognostic Value of Heart Rate Turbulence for Risk Assessment in Patients with Unstable Angina and Non-ST Elevation Myocardial Infarction"
Vascular Health and Risk Management
Vol. 9 (2013) p. 465 - 473 ISSN: 1178-2048
Available at: http://works.bepress.com/patricia_harris/45/