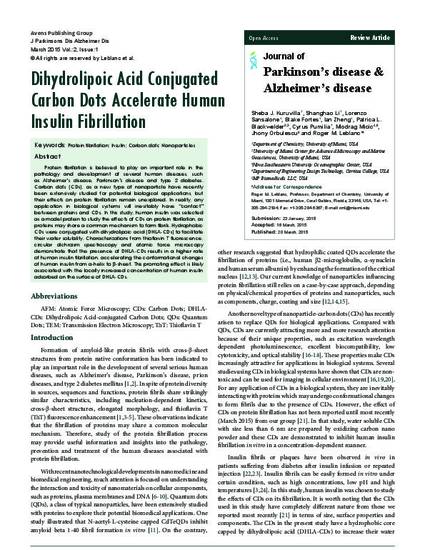 Article
Dihydrolipoic Acid Conjugated Carbon Dots Accelerate Human Insulin Fibrillation
Journal of Parkinson's Disease and Alzheimer's Disease
Publication Date
3-1-2015
Keywords
Protein fibrillation,
Insulin,
Carbon dots,
Nanoparticles
Abstract
Protein fibrillation is believed to play an important role in the pathology and development of several human diseases, such as Alzheimer's disease, Parkinson's disease and type 2 diabetes. Carbon dots (CDs), as a new type of nanoparticle have recently been extensively studied for potential biological applications, but their effects on protein fibrillation remain unexplored. In reality, any application in biological systems will inevitably have "contact" between proteins and CDs. In this study, human insulin was selected as a model protein to study the effects of CDs on protein fibrillation, as proteins may share a common mechanism to form fibrils. Hydrophobic CDs were conjugated with dihydrolipoic acid (DHLA-CDs) to facilitate their water solubility. Characterizations from thioflavin T fluorescence, circular dichroism spectroscopy and atomic force microscopy demonstrate that the presence of DHLA-CDs results in a higher rate of human insulin fibrillation, accelerating the conformational changes of human insulin from α-helix to β-sheet. This promoting effect is likely associated with the locally increased concentration of human insulin adsorbed on the surface of DHLA-CDs.
DOI
10.13188/2376-922X.1000007
Citation Information
Sheba J. Kuruvilla, Shanghao Li, Lorenzo Sansalone, Blake Fortes, et al.. "Dihydrolipoic Acid Conjugated Carbon Dots Accelerate Human Insulin Fibrillation"
Journal of Parkinson's Disease and Alzheimer's Disease
Vol. 2 Iss. 1 (2015) p. 1 - 7 ISSN: 2376-922X
Available at: http://works.bepress.com/patricia-blackwelder/37/