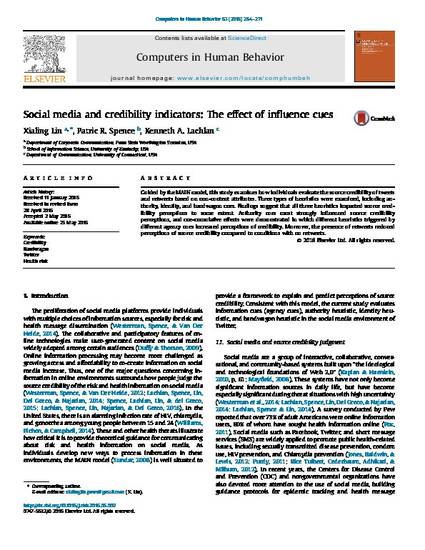 Article
Social media and credibility indicators: The effect of influence cues
Computers in Human Behavior (2016)
Abstract
Guided by the MAIN model, this study examines how individuals evaluate the source credibility of tweets and retweets based on non-content attributes. Three types of heuristics were examined, including authority, identity, and bandwagon cues. Findings suggest that all three heuristics impacted source credibility perceptions to some extent. Authority cues most strongly influenced source credibility perceptions, and cue-cumulative effects were demonstrated in which different heuristics triggered by different agency cues increased perceptions of credibility. Moreover, the presence of retweets reduced perceptions of source credibility compared to conditions with no retweets.
Keywords
credibility,
bandwagon,
twitter,
health risk
DOI
http://dx.doi.org/10.1016/j.chb.2016.05.002
Citation Information
Xialing Lin, Patric R Spence and Kenneth Lachlan. "Social media and credibility indicators: The effect of influence cues"
Computers in Human Behavior
Vol. 63 (2016) p. 264 - 271
Available at: http://works.bepress.com/patric_spence/70/