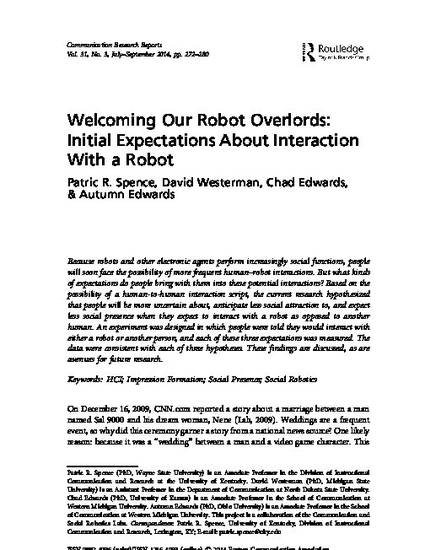 Article
Welcoming Our Robot Overlords: Initial Expectations About Interaction With a Robot
Communication Research Reports (2014)
Abstract
Because robots and other electronic agents perform increasingly social functions, people will soon face the possibility of more frequent human–robot interactions. But what kinds of expectations do people bring with them into these potential interactions? Based on the possibility of a human-to-human interaction script, the current research hypothesized that people will be more uncertain about, anticipate less social attraction to, and expect less social presence when they expect to interact with a robot as opposed to another human. An experiment was designed in which people were told they would interact with either a robot or another person, and each of these three expectations was measured. The data were consistent with each of three hypotheses. These findings are discussed, as are avenues for future research.
DOI
10.1080/08824096.2014.924337
Citation Information
Patric R Spence, David Westerman, Chad Edwards and Autumn Edwards. "Welcoming Our Robot Overlords: Initial Expectations About Interaction With a Robot"
Communication Research Reports
Vol. 31 (2014) p. 272 - 280
Available at: http://works.bepress.com/patric_spence/6/