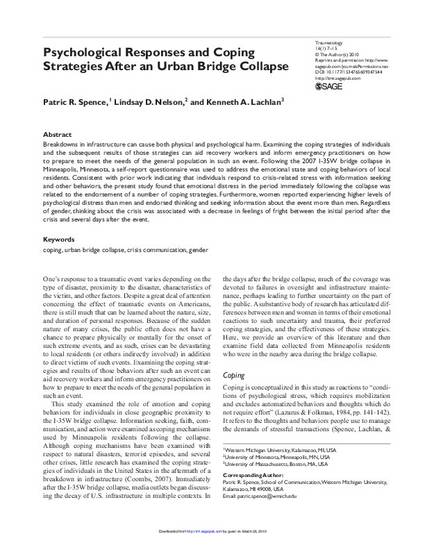 Article
Psychological Responses and Coping Strategies After an Urban Bridge Collapse
Traumatology (2010)
Abstract
Breakdowns in infrastructure can cause both physical and psychological harm. Examining the coping strategies of individuals and the subsequent results of those strategies can aid recovery workers and inform emergency practitioners on how to prepare to meet the needs of the general population in such an event. Following the 2007 I-35W bridge collapse in Minneapolis, Minnesota, a self-report questionnaire was used to address the emotional state and coping behaviors of local residents. Consistent with prior work indicating that individuals respond to crisis-related stress with information seeking and other behaviors, the present study found that emotional distress in the period immediately following the collapse was related to the endorsement of a number of coping strategies. Furthermore, women reported experiencing higher levels of psychological distress than men and endorsed thinking and seeking information about the event more than men. Regardless of gender, thinking about the crisis was associated with a decrease in feelings of fright between the initial period after the crisis and several days after the event.
Keywords
coping,
urban bridge collapse,
crisis communication,
gender
DOI
DOI: 10.1177/1534765609347544
Citation Information
Patric R Spence, Lindsay D. Nelson and Kenneth Lachlan. "Psychological Responses and Coping Strategies After an Urban Bridge Collapse"
Traumatology
Vol. 16 Iss. 1 (2010) p. 7 - 15
Available at: http://works.bepress.com/patric_spence/59/