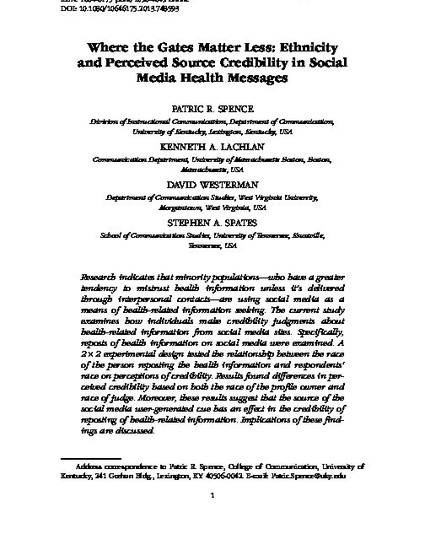 Article
Where the Gates Matter Less: Ethnicity and Perceived Source Credibility in Social Media Health Messages
The Howard Journal of Communications (2013)
Abstract
Research indicates that minority populations—who have a greater tendency to mistrust health information unless it's delivered through interpersonal contacts—are using social media as a means of health-related information seeking. The current study examines how individuals make credibility judgments about health-related information from social media sites. Specifically, reposts of health information on social media were examined. A 2 × 2 experimental design tested the relationship between the race of the person reposting the health information and respondents' race on perceptions of credibility. Results found differences in perceived credibility based on both the race of the profile owner and race of judge. Moreover, these results suggest that the source of the social media user-generated cue has an effect in the credibility of reposting of health-related information. Implications of these findings are discussed.
Keywords
ethnic identity,
health communiucation,
social media,
race
DOI
10.1080/10646175.2013.748593
Citation Information
Patric R Spence, Kenneth Lachlan, David Westerman and Stephen A. Spates. "Where the Gates Matter Less: Ethnicity and Perceived Source Credibility in Social Media Health Messages"
The Howard Journal of Communications
Vol. 24 (2013) p. 1 - 16
Available at: http://works.bepress.com/patric_spence/22/