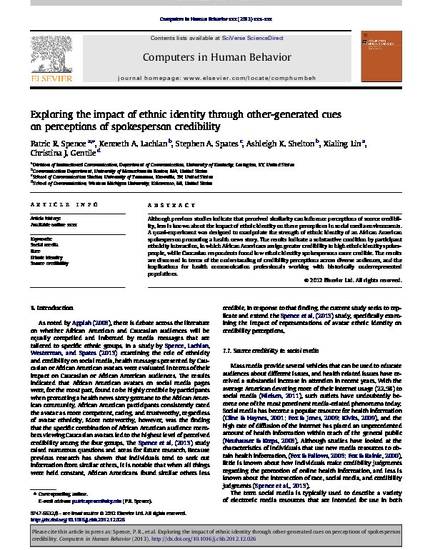 Article
Exploring the impact of ethnic identity through other-generated cues on perceptions of spokesperson credibility
Computers in Human Behavior (2013)
Abstract
Although previous studies indicate that perceived similarity can influence perceptions of source credibility, less is known about the impact of ethnic identity on these perceptions in social media environments. A quasi-experiment was designed to manipulate the strength of ethnic identity of an African American spokesperson promoting a health news story. The results indicate a substantive condition by participant ethnicity interaction, in which African Americans assign greater credibility to high ethnic identity spokespeople, while Caucasian respondents found low ethnic identity spokespersons more credible. The results are discussed in terms of the understanding of credibility perceptions across diverse audiences, and the implications for health communication professionals working with historically underrepresented populations.
Keywords
social media,
race,
ethnic identity,
source credibility
DOI
http://dx.doi.org/10.1016/j.chb.2012.12.026
Citation Information
Patric R Spence, Kenneth Lachlan, Stephen A. Spates, Ashleigh K. Shelton, et al.. "Exploring the impact of ethnic identity through other-generated cues on perceptions of spokesperson credibility"
Computers in Human Behavior
Vol. 29 (2013) p. A3 - A11
Available at: http://works.bepress.com/patric_spence/21/