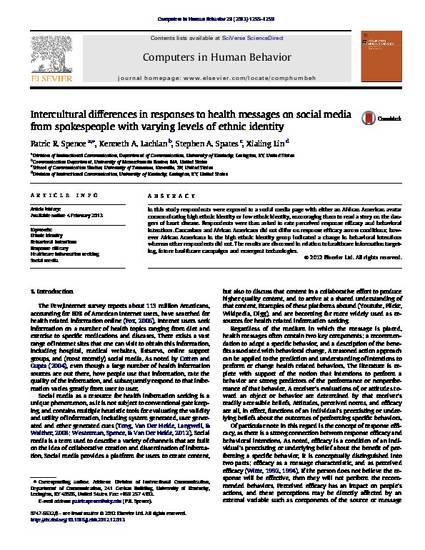 Article
Intercultural differences in responses to health messages on social media from spokespeople with varying levels of ethnic identity
Computers in Human Behavior (2013)
Abstract
In this study respondents were exposed to a social media page with either an African American avatar communicating high ethnic identity or low ethnic identity, encouraging them to read a story on the dangers of heart disease. Respondents were then asked to rate perceived response efficacy and behavioral intentions. Caucasians and African Americans did not differ on response efficacy across conditions; however African Americans in the high ethnic identity group indicated a change in behavioral intentions whereas other respondents did not. The results are discussed in relation to healthcare information targeting, future healthcare campaigns and emergent technologies.
Keywords
ethnic identity,
behavioral intentions,
response efficacy,
health care,
information seeking,
social media
DOI
http://dx.doi.org/10.1016/j.chb.2012.12.013
Citation Information
Patric R Spence, Kenneth Lachlan, Stephen A. Spates and Xialing Lin. "Intercultural differences in responses to health messages on social media from spokespeople with varying levels of ethnic identity"
Computers in Human Behavior
Vol. 29 (2013) p. 1225 - 1259
Available at: http://works.bepress.com/patric_spence/20/