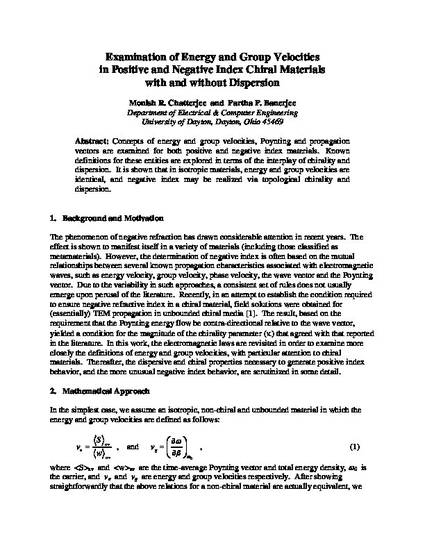 Other
Examination of Energy and Group Velocities in Positive and Negative Index Chiral Materials with and without Dispersion
Frontiers in Optics 2007
Document Type
Conference Paper
Publication Date
9-1-2007
Abstract
Concepts of energy and group velocities, Poynting and propagation vectors are examined for both positive and negative index materials. Known definitions for these entities are explored in terms of the interplay of chirality and dispersion.
Document Version
Postprint
Copyright
Copyright © 2007, Optical Society of America
Publisher
Optical Society of America
Place of Publication
San Jose, CA
Citation Information
Monish Ranjan Chatterjee and Partha P. Banerjee. "Examination of Energy and Group Velocities in Positive and Negative Index Chiral Materials with and without Dispersion"
Frontiers in Optics 2007
(2007)
Available at: http://works.bepress.com/partha_banerjee/127/