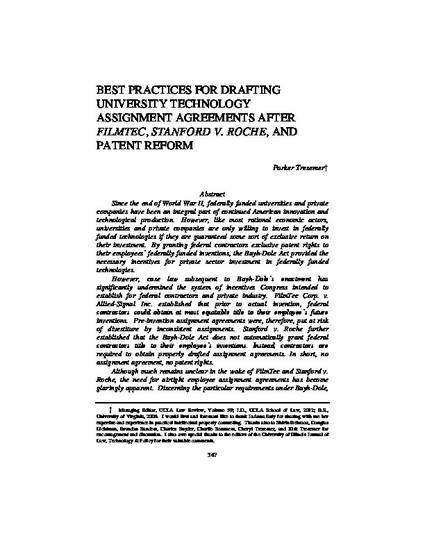 Article
Best Practices for Drafting University Technology Assignment Agreements After FilmTec, Stanford v. Roche, and Patent Reform
Journal of Law, Technology & Policy (2012)
Abstract
Since the end of World War II, federally funded universities and private companies have been an integral part of continued American innovation and technological production. However, like most rational economic actors, universities and private companies are only willing to invest in federally funded technologies if they are guaranteed some sort of exclusive return on their investment. By granting federal contractors exclusive patent rights to their employee's federally funded inventions, the Bayh-Dole Act provided the necessary incentives for private sector investment in federally funded technologies. However, case law subsequent to Bayh-Dole's enactment has significantly undermined the system of incentives Congress intended to establish for federal contractors and private industry. FilmTec Corp. v. Allied-Signal Inc. established that prior to actual invention, federal contractors could obtain at most equitable title to their employee's future inventions. Pre-invention assignment agreements were, therefore, put at risk of divestiture by inconsistent assignments. Stanford v. Roche further established that the Bayh-Dole Act does not automatically grant federal contractors title to their employee's inventions. Instead, contractors are required to obtain properly drafted assignment agreements. In short, no assignment agreement, no patent rights. Although much remains unclear in the wake of FilmTec and Stanford v. Roche, the need for airtight employee assignment agreements has become glaringly apparent. Discerning the particular requirements under Bayh-Dole, recent case law, and U.S. patent law can be trying for even sophisticated contract drafters. By providing a roadmap to draft strong assignment agreements in compliance with recent case law, this comment enables universities to protect their exclusive patent rights.
Keywords
Bayh-Dole,
commercialization,
law,
patent,
Stanford v. Roche,
FilmTec,
intellectual property,
federal funding,
technology,
legislative history,
Congressional intent,
assignment,
patent reform,
contract law,
drafting techniques
Citation Information
Parker Miles Tresemer. "Best Practices for Drafting University Technology Assignment Agreements After FilmTec, Stanford v. Roche, and Patent Reform"
Journal of Law, Technology & Policy
Vol. 2012 Iss. 2 (2012)
Available at: http://works.bepress.com/parker_tresemer/5/