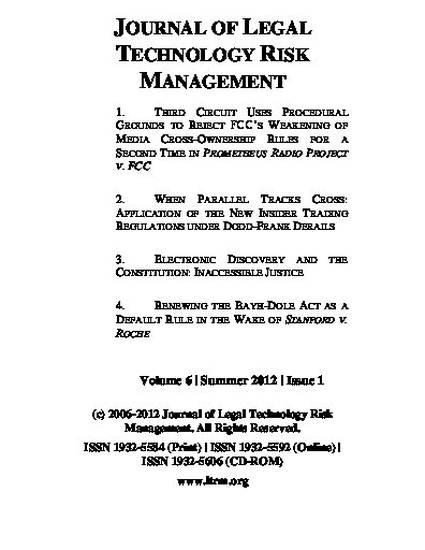 Article
Renewing the Bayh-Dole Act as a Default Rule in the Wake of Stanford v. Roche
Journal of Legal Technology Risk Management (2012)
Abstract
Since its enactment in 1980, the Bayh-Dole Act has incentivized university and private industry investment in new technologies by granting them exclusive patent rights to their inventors' federally funded technologies. The Supreme Court's holding in Stanford v. Roche, however, threatens to stall American innovation by undermining the Act's intended structure for disposition of intellectual property rights. Congress enacted the Bayh-Dole Act to solve a specific problem: stagnating technological innovation in the decades after World War II. Universities and private companies are unwilling to commercialize basic federally funded technologies without exclusive rights to those technologies. The Congressional record surrounding the Bayh-Dole Act makes it clear that Congress intended to vest full title not in the federal government or in individual inventors, but in the universities and companies that receive federal funding to develop and commercialize technologies. Until 2011, the Bayh-Dole Act functioned as intended. It was a resounding success. But in Stanford v. Roche, the Supreme Court held that federal contractors can only obtain title to their employee's federally funded inventions by operation of properly drafted assignment agreements. The Bayh-Dole Act itself cannot grant federal contractors rights to their employee's inventions. In so holding, the Court has in effect divested of patent rights all federally funded contractors without properly drafted employment assignment agreements. The Court's drafting trap is sure to ensnare precisely the small and often unsophisticated organizations Congress enacted Bayh-Dole to protect, and therefore, Congress should make minor linguistic changes to the Act that will insure federal contractors receive rights to their employee's inventions as a default rule.
Keywords
Bayh-Dole,
commercialization,
law,
patent,
Stanford v. Roche,
intellectual property,
federal funding,
technology,
legislative history,
Congressional intent
Citation Information
Parker Miles Tresemer. "Renewing the Bayh-Dole Act as a Default Rule in the Wake of Stanford v. Roche"
Journal of Legal Technology Risk Management
Vol. 6 Iss. 1 (2012)
Available at: http://works.bepress.com/parker_tresemer/3/