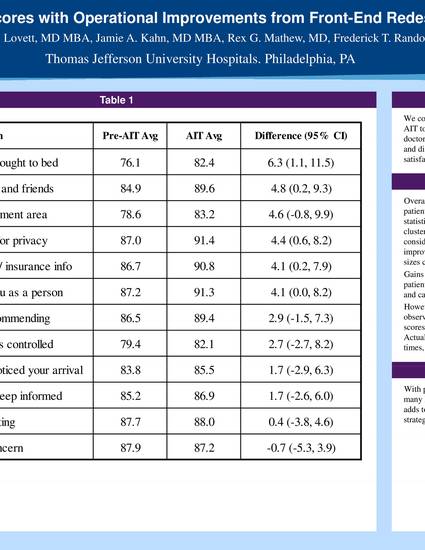 Presentation
Improvement in Satisfaction Scores with Operational Improvements from Front-End Redesign and Attenting-in-Triage
ACHE (American College of Healthcare Executives) (2012)
Abstract
Improvement in Satisfaction Scores with Operational Improvements from Front-End Redesign and Attenting-in-Triage
Linda Davis-Moon, MSN, CRNP, Paris B. Lovett, MD MBA, Jamie A. Kahn, MD MBA, Rex G. Mathew, MD, Frederick T. Randolph, MD MBA, Logan J. Harper, BS
Thomas Jefferson University Hospitals. Philadelphia, PA.
Background: With ED volumes increasing, and with boarding and overcrowding problems, many EDs have introduced an Attending-in-Triage (AIT) to improve patient flow. One of the aims of AIT is to improve patient satisfaction.
Objectives: To report changes in patient satisfaction scores associated with introduction of AIT and resultant operational improvements.
Methods: The study design was a prospective survey conducted in an urban academic ED. A convenience sample of ambulatory patients with ESI Level scores of 3-5 were surveyed. Surveys were administered as patients were discharged. The surveys had standard patient satisfaction items on 5-point Likert scales (points mapped to scores 0, 25, 50, 75, 100 in similar manner to Press Ganey). We compared mean scores before and after AIT. We also measured operational improvements.
Results: We collected 141 surveys pre-AIT, and 167 post-AIT. From Pre-AIT to AIT there were operational improvements in time-to-doctor (from 73 to 45 minutes), walkouts (from 6.1% to 3.9%), and discharged length-of-stay (from 224 to 205 minutes). Patient satisfaction scores are shown in Table 1.
Discussion: Overall, adoption of AIT was associated with positive changes in patient satisfaction scores, although some improvements were not statistically significant. Satisfaction raw scores are tightly clustered, so while for example an improvement of 4.6 points is considered impressive in most EDs, and corresponds to a major improvement in national percentile rankings, very large sample sizes can be required to detect such an improvement statistically.
Gains in operational efficiencies were associated with improved patient satisfaction with respect to waiting times, courtesy, privacy and caring.
However, improvement in overall patient satisfaction was not observed. Two factors may have contributed to this: (a) Pre-AIT scores were already high leading to diminishing returns. (b) Actual wait times may have less of an impact than perceived wait times, which we can not measure.
Future Implications: With patient satisfaction shortly being rolled into reimbursement, many EDs are implementing AIT type strategies. This research adds to the overall discussion and definition of outcomes for AIT strategies.
Keywords
patient satisfaction,
healthcare management
Publication Date
March, 2012
Citation Information
Paris B Lovett. "Improvement in Satisfaction Scores with Operational Improvements from Front-End Redesign and Attenting-in-Triage"
ACHE (American College of Healthcare Executives)
(2012)
Available at: http://works.bepress.com/paris_lovett/16/