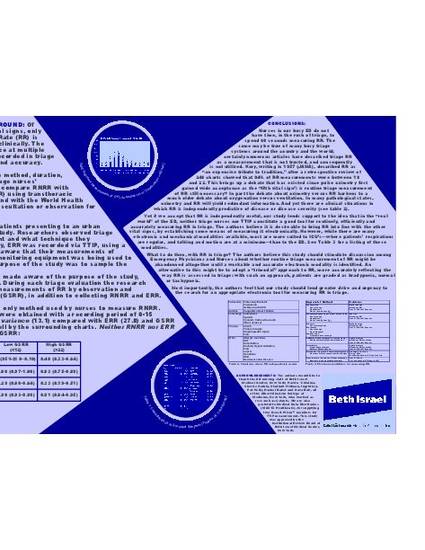 Article
The Vexatious Vital: A Comparison of Clinical vs Electronic Measurement of Respiratory Rate in Triage
Academic Emergency Medicine (2003)
Abstract
The Vexatious Vital: A Comparison of Clinical vs Electronic Measurement of Respiratory Rate in Triage
Paris B Lovett, Jason M Buchwald, Kai Sturmann, Polly Bijur;
Beth Israel Medical Center: New York, NY, Albert Einstein College of Medicine: Bronx, NY
Background: Of all the vital signs, only Respiratory Rate (RR) is still measured clinically. The authors' experience at multiple centers is that RR recorded in triage shows low variability and accuracy.
Objectives: To assess the method, duration, variability and accuracy of triage nurses' measurements of RR (RNRR). To compare this with electronic measurement of RR (ERR) using transthoracic impedance plethysmography (TTIP), and with the W.H.O. gold standard (GSRR) of auscultation for 60 sec.
Methods: 483 consecutive patients presenting to an urban teaching ED were enrolled in this prospective study. Researchers observed triage nurses to assess how long and by what method they measured RNRR. ERR was measured simultaneously. Nurses were not aware that their RNRR measurements were being observed. In Phase II, RNRR and ERR were compared with GSRR in an additional 187 subjects.
Results: RNRR was recorded in 92.9% of subjects, with observation the only method witnessed. 91% of RNRR measurements followed a recording period of 0–15 sec. Neither RNRR nor ERR was accurate: RNRR sensitivity for detecting low RR (\12) was 0 (95%CI 0–0.10) against GSRR. RNRR sensitivity and specificity for detecting high RR ([22) were 0.48 (0.33–0.64) and 0.83 (0.75–0.89). ERR sensitivity and specificity against GSRR for detecting low RR were 0.29 (0.08–0.64) and 0.98 (0.93–0.99) and for detecting high RR were 0.33 (0.19–0.51) and 0.91 (0.84–0.95). Nurses' sensitivity in detecting tachypnea was greater in patients over 65; no other significant demographic association emerged. RNRR showed low variance (13.1) compared with ERR (27.6) and GSRR (31.4).
Conclusions: There isn't time for nurses to spend 60 seconds recording RR in triage. Neither triage nurses nor TTIP provided reliable measurements of RR. EDs should examine the possibility of adopting a trimodal approach to measuring RR (bradypneic, normal, tachypneic), or perhaps even abandon triage measurement of RR until an accurate electronic modality is identified.
Keywords
respiratory rate,
vital signs
Publication Date
May, 2003
Citation Information
Paris B Lovett. "The Vexatious Vital: A Comparison of Clinical vs Electronic Measurement of Respiratory Rate in Triage"
Academic Emergency Medicine
Vol. 10 Iss. 5 (2003)
Available at: http://works.bepress.com/paris_lovett/13/