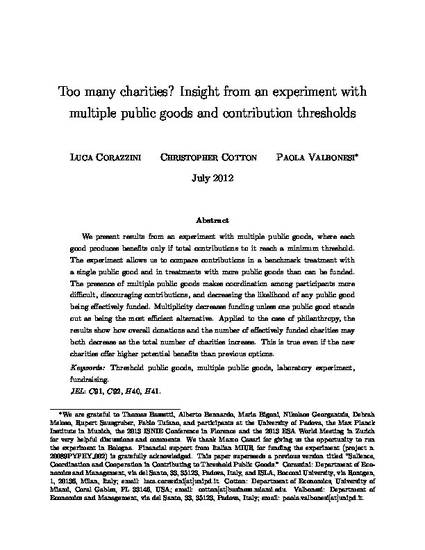 Other
Too many charities? Insight from an experiment with multiple public goods and contribution thresholds
(2012)
Abstract
We present results form a multiple public goods experiment, where each public good produces benefits only if total contributions to it reach a minumum threshold. The experiment allows us to compare subjects' behaviour in a benchmark treatment with a single public good and in treatments with more public goods than can be funded. We show how the availability of numerous, more-efficient public goods may not make subjects better off. This is because multiple options decrease the probability of coordination and discourage contributions. The availability of several less-efficient options does not alter coordination and contributions relative to the benchmark.
Keywords
Threshold Public Goods,
Multiple Public Goods,
Salience,
E¢ ciency,
Lab- oratory Experiment.
Publication Date
Spring May, 2012
Citation Information
Luca Corazzini, Christopher Cotton and Paola Valbonesi. "Too many charities? Insight from an experiment with multiple public goods and contribution thresholds" (2012)
Available at: http://works.bepress.com/paola_valbonesi/22/