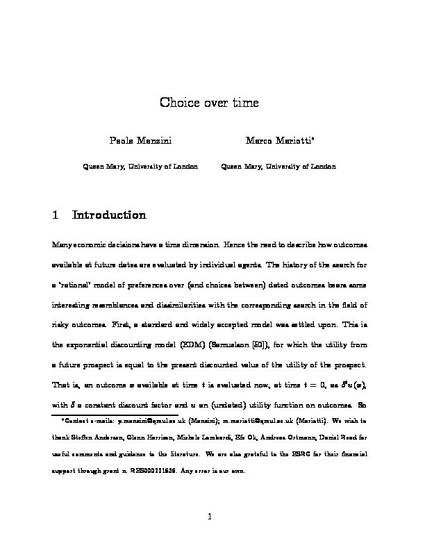 Contribution to Book
Choice Over Time
The Handbook of Rational and Social Choice (2008)
Abstract
This chapter reviews both the theoretical modeling and the experimental evidence, relating to choice over time. Most of the space is devoted to choices between outcome‐date pairs, which has been better studied, especially experimentally, but it also discusses choices between time sequences of outcomes. It distinguishes between "soft anomalies", which can be accommodated by a simple modification of the standard exponential discounting model (e.g. hyperbolic discounting) and "hard anomalies" which pose a more fundamental challenge.
Keywords
time,
discounting models,
experimental evidence,
hard annomalies,
soft anomalies,
hyperbolic discounting
Editor
Paul Anand, Prasanta Pattanaik, and Clemens Puppe
Publisher
Oxford University Press
DOI
10.1093/acprof:oso/9780199290420.003.0011
Citation Information
Paola Manzini and Marco Mariotti. "Choice Over Time" Oxford
The Handbook of Rational and Social Choice
(2008)
Available at: http://works.bepress.com/paola-manzini/13/
Creative Commons License
This work is licensed under a Creative Commons CC_BY-NC-ND International License.