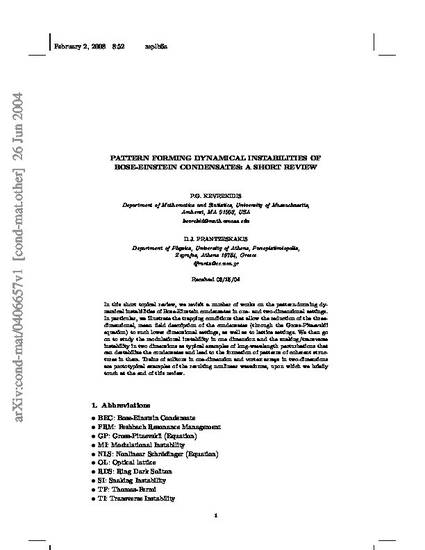 Article
PATTERN FORMING DYNAMICAL INSTABILITIES OF BOSE–EINSTEIN CONDENSATES
Modern Physics Letters B
Abstract
In this short topical review, we revisit a number of works on the pattern-forming dynamical instabilities of Bose–Einstein condensates in one- and two-dimensional settings. In particular, we illustrate the trapping conditions that allow the reduction of the three-dimensional, mean field description of the condensates (through the Gross–Pitaevskii equation) to such lower dimensional settings, as well as to lattice settings. We then go on to study the modulational instability in one dimension and the snaking/transverse instability in two dimensions as typical examples of long-wavelength perturbations that can destabilize the condensates and lead to the formation of patterns of coherent structures in them. Trains of solitons in one dimension and vortex arrays in two dimensions are prototypical examples of the resulting nonlinear waveforms, upon which we briefly touch at the end of this review.
Citation Information
PG Kevrekidis. "PATTERN FORMING DYNAMICAL INSTABILITIES OF BOSE–EINSTEIN CONDENSATES"
Modern Physics Letters B
Vol. 18 Iss. 5-6 (2004)
Available at: http://works.bepress.com/panos_kevrekidis/26/