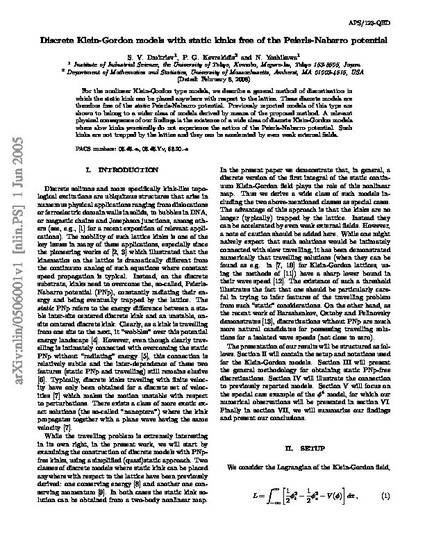 Article
Discrete Klein–Gordon models with static kinks free of the Peierls–Nabarro potential
Journal of Physics A: Mathematical and General
Abstract
For the nonlinear Klein–Gordon type models, we describe a general method of discretization in which the static kink can be placed anywhere with respect to the lattice. These discrete models are, therefore, free of the Peierls–Nabarro potential. Previously reported models of this type are shown to belong to a wider class of models derived by means of the proposed method. A relevant physical consequence of our findings is the existence of a wide class of discrete Klein–Gordon models where slow kinks practically do not experience the action of the Peierls–Nabarro potential. Such kinks are not trapped by the lattice and they can be accelerated by even weak external fields.
Citation Information
S V Dmitriev and PG Kevrekidis. "Discrete Klein–Gordon models with static kinks free of the Peierls–Nabarro potential"
Journal of Physics A: Mathematical and General
Vol. 38 Iss. 35 (2005)
Available at: http://works.bepress.com/panos_kevrekidis/186/