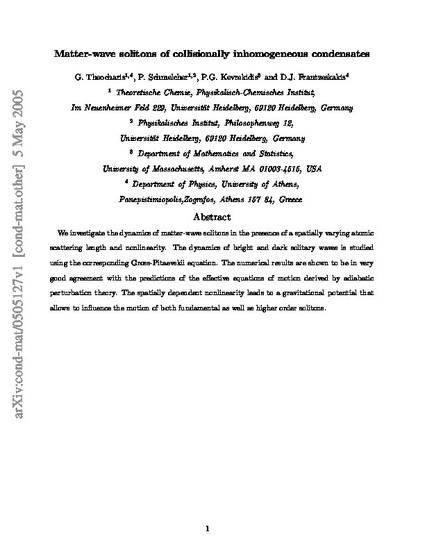 Article
Matter-wave solitons in the presence of collisional inhomogeneities: Perturbation theory and the impact of derivative terms
PHYSICS LETTERS A
Abstract
We investigate the dynamics of matter-wave solitons in the presence of a spatially varying atomic scattering length and nonlinearity. The dynamics of bright and dark solitary waves is studied using the corresponding Gross-Pitaevskii equation. The numerical results are shown to be in very good agreement with the predictions of the effective equations of motion derived by adiabatic perturbation theory. The spatially dependent nonlinearity is found to lead to a gravitational potential, as well as to a renormalization of the parabolic potential coefficient. This feature allows one to influence the motion of fundamental as well as higher-order solitons.
Citation Information
S Middelkamp, PG Kevrekidis, DJ Frantzeskakkis and P Schmelcher. "Matter-wave solitons in the presence of collisional inhomogeneities: Perturbation theory and the impact of derivative terms"
PHYSICS LETTERS A
Vol. 373 Iss. 2 (2009)
Available at: http://works.bepress.com/panos_kevrekidis/132/