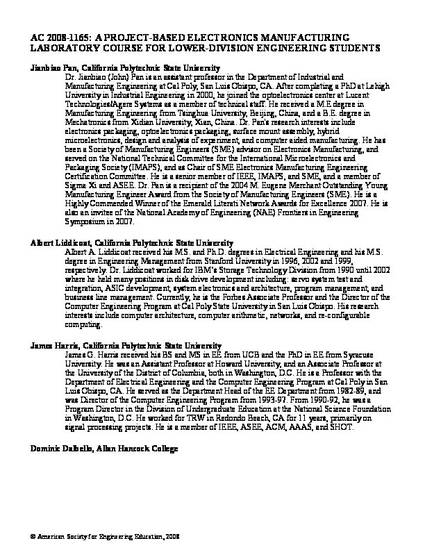 Presentation
A Project-Based Electronics Manufacturing Laboratory Course for Lower-Division Engineering Students
Proceedings of the 2008 ASEE Annual Conference & Exposition: Pittsburg, PA
Publication Date
6-22-2008
Abstract
This paper presents a project-based laboratory course on electronics design and manufacturing. The goal of this course is to provide lower-division engineering students a hands-on experience involving actual printed circuit board (PCB) design, layout, fabrication, assembly, and testing. Through project-based learning, students not only learn technical skills in designing and manufacturing an electronic device, but also develop their project management and communication skills early in their course of study at the university. The course outline and examples of the student projects are presented in this paper as well as project evaluations and students' feedback. This paper also presents the selection of a PCB design tool for the lower-division electronics manufacturing course.
Citation Information
Jianbiao Pan, Albert Liddicoat, James G. Harris and Dominic Dal Bello. "A Project-Based Electronics Manufacturing Laboratory Course for Lower-Division Engineering Students"
Proceedings of the 2008 ASEE Annual Conference & Exposition: Pittsburg, PA
(2008)
Available at: http://works.bepress.com/pan/7/