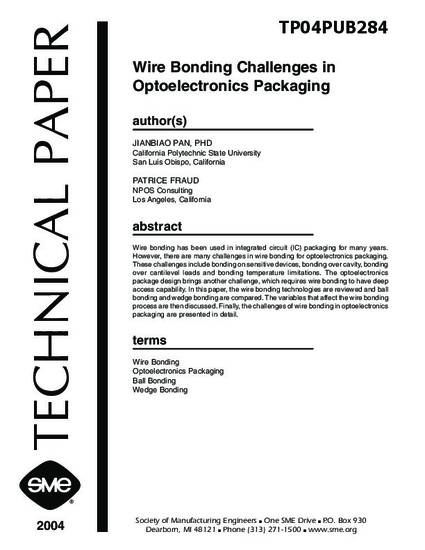 Presentation
Wire Bonding Challenges in Optoelectronics Packaging
Proceedings of the 1st SME Annual Manufacturing Technology Summit: Dearborn, MI
Publication Date
8-1-2004
Abstract
Wire bonding has been used in integrated circuit (IC) packaging for many years. However, there are many challenges in wire bonding for optoelectronics packaging. These challenges include bonding on sensitive devices, bonding over cavity, bonding over cantilevel leads and bonding temperature limitations. The optoelectronics package design brings another challenge, which requires wire bonding to have deep access capability. In this paper, the wire bonding technologies are reviewed and ball bonding and wedge bonding are compared. The variables that affect the wire bonding process are then discussed. Finally, the challenges of wire bonding in optoelectronics packaging are presented in detail.
Citation Information
Jianbiao Pan and Patrice Fraud. "Wire Bonding Challenges in Optoelectronics Packaging"
Proceedings of the 1st SME Annual Manufacturing Technology Summit: Dearborn, MI
(2004)
Available at: http://works.bepress.com/pan/18/