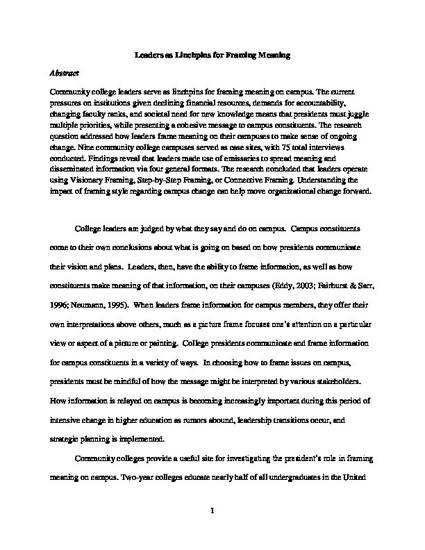 Article
Leaders as Linchpins for Framing Meaning
Community College Review
Department/Program
Education
Publication Date
4-1-2010
Abstract
Community college leaders serve as linchpins for framing meaning on campus. The current pressures on institutions (given declining financial resources, demands for accountability, changing faculty ranks, and societal need for new knowledge) require presidents to juggle multiple priorities while presenting a cohesive message to campus constituents. This study examined how the presidents at nine community colleges communicated with college constituents and framed the meaning of those communications to help the college community make sense of ongoing change. Interviews with the presidents, as well as with key administrators, faculty members, and staff members, revealed that the presidents used emissaries to disseminate information in four distinct ways. Study findings also showed that the presidents framed the meaning of their communications through visionary framing (emphasizing future possibilities), step-by-step framing (emphasizing the immediate next steps required to achieve institutional goals), or connective framing (emphasizing dialogue and collaborative learning).
DOI
10.1177/0091552110362744
Keywords
college presidents,
communication strategies,
leadership,
organizational change
Citation Information
Pamela L Eddy. "Leaders as Linchpins for Framing Meaning"
Community College Review
Vol. 37 Iss. 4 (2010) p. 313 - 332
Available at: http://works.bepress.com/pamelaeddy/17/