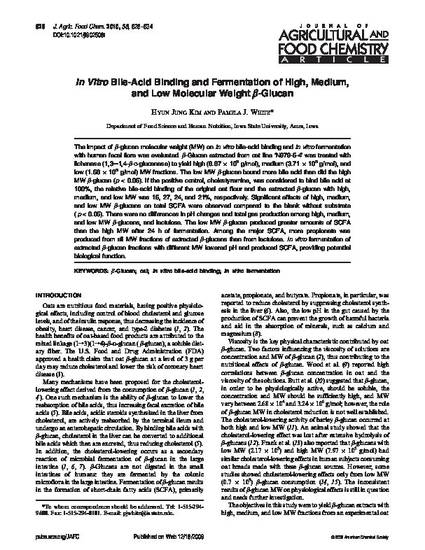 Article
In Vitro Bile-Acid Binding and Fermentation of High, Medium, and Low Molecular Weight β-Glucan
Journal of Agricultural and Food Chemistry
Publication Date
1-13-2010
Abstract
The impact of β-glucan molecular weight (MW) on in vitro bile-acid binding and in vitrofermentation with human fecal flora was evaluated. β-Glucan extracted from oat line 'N979-5-4' was treated with lichenase (1,3−1,4-β-d-glucanase) to yield high (6.87 × 105 g/mol), medium (3.71 × 105 g/mol), and low (1.56 × 105 g/mol) MW fractions. The low MW β-glucan bound more bile acid than did the high MW β-glucan (p < 0.05). If the positive control, cholestyramine, was considered to bind bile acid at 100%, the relative bile-acid binding of the original oat flour and the extracted β-glucan with high, medium, and low MW was 15, 27, 24, and 21%, respectively. Significant effects of high, medium, and low MW β-glucans on total SCFA were observed compared to the blank without substrate (p < 0.05). There were no differences in pH changes and total gas production among high, medium, and low MW β-glucans, and lactulose. The low MW β-glucan produced greater amounts of SCFA than the high MW after 24 h of fermentation. Among the major SCFA, more propionate was produced from all MW fractions of extracted β-glucans than from lactulose. In vitro fermentation of extracted β-glucan fractions with different MW lowered pH and produced SCFA, providing potential biological function.
Copyright Owner
American Chemical Society
File Format
application/pdf
Citation Information
Hyun Jung Kim and Pamela J. White. "In Vitro Bile-Acid Binding and Fermentation of High, Medium, and Low Molecular Weight β-Glucan"
Journal of Agricultural and Food Chemistry
Vol. 58 Iss. 10 (2010) p. 628 - 634
Available at: http://works.bepress.com/pamela_white/7/