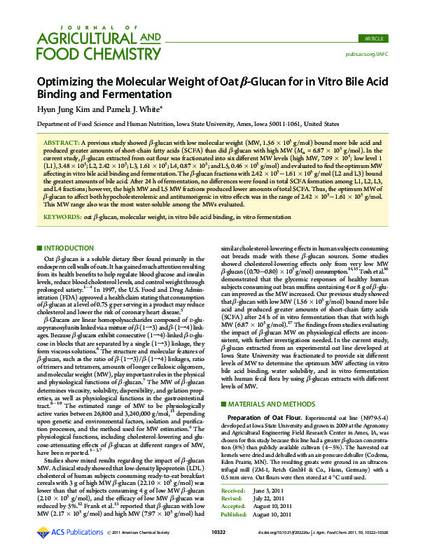 Article
Optimizing the Molecular Weight of Oat β-Glucan for in Vitro Bile Acid Binding and Fermentation
Journal of Agricultural and Food Chemistry
Publication Date
9-28-2011
Abstract
A previous study showed β-glucan with low molecular weight (MW, 1.56 × 105 g/mol) bound more bile acid and produced greater amounts of short-chain fatty acids (SCFA) than did β-glucan with high MW (Mn = 6.87 × 105 g/mol). In the current study, β-glucan extracted from oat flour was fractionated into six different MW levels (high MW, 7.09 × 105; low level 1 (L1), 3.48 × 105; L2, 2.42 × 105; L3, 1.61 × 105; L4, 0.87 × 105; and L5, 0.46 × 105 g/mol) and evaluated to find the optimum MW affecting in vitro bile acid binding and fermentation. The β-glucan fractions with 2.42 × 105–1.61 × 105 g/mol (L2 and L3) bound the greatest amounts of bile acid. After 24 h of fermentation, no differences were found in total SCFA formation among L1, L2, L3, and L4 fractions; however, the high MW and L5 MW fractions produced lower amounts of total SCFA. Thus, the optimum MW of β-glucan to affect both hypocholesterolemic and antitumorigenic in vitro effects was in the range of 2.42 × 105–1.61 × 105 g/mol. This MW range also was the most water-soluble among the MWs evaluated.
Copyright Owner
American Chemical Society
File Format
application/pdf
Citation Information
Hyun Jung Kim and Pamela J. White. "Optimizing the Molecular Weight of Oat β-Glucan for in Vitro Bile Acid Binding and Fermentation"
Journal of Agricultural and Food Chemistry
Vol. 59 Iss. 18 (2011) p. 10322 - 10328
Available at: http://works.bepress.com/pamela_white/6/