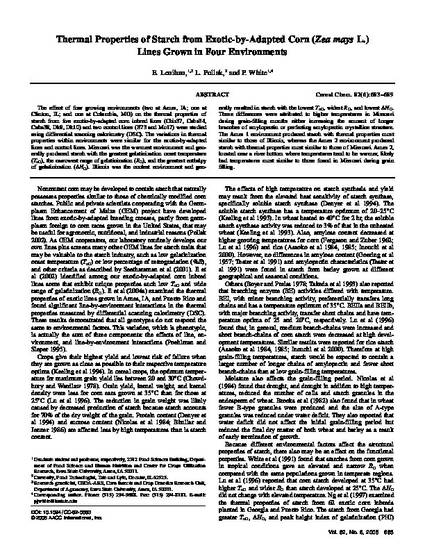 Article
Thermal Properties of Starch from Exotic-by-Adapted Corn (Zea mays L.) Lines Grown in Four Environments
Cereal Chemistry
Publication Version
Published Version
Publication Date
11-1-2005
DOI
http://dx.doi.org/10.1094/CC-82-0683
Abstract
The effect of four growing environments (two at Ames, IA; one at Clinton, IL; and one at Columbia, MO) on the thermal properties of starch from five exotic-by-adapted corn inbred lines (Chis37, Cuba34, Cuba38, Dk8, Dk10) and two control lines (B73 and Mo17) were studied using differential scanning calorimetry (DSC). The variations in thermal properties within environments were similar for the exotic-by-adapted lines and control lines. Missouri was the warmest environment and generally produced starch with the greatest gelatinization onset temperature (ToG), the narrowest range of gelatinization (RG), and the greatest enthalpy of gelatinization (ΔHG). Illinois was the coolest environment and generally resulted in starch with the lowest ToG, widest RG, and lowest ΔHG. These differences were attributed to higher temperatures in Missouri during grain-filling months either increasing the amount of longer branches of amylopectin or perfecting amylopectin crystalline structure. The Ames 1 environment produced starch with thermal properties most similar to those of Illinois, whereas the Ames 2 environment produced starch with thermal properties most similar to those of Missouri. Ames 2, located near a river bottom where temperatures tend to be warmer, likely had temperatures most similar to those found in Missouri during grain filling.
Rights
Works produced by employees of the United States Government as part of their official duties are not copyrighted within the U.S. The content of this document is not copyrighted.
File Format
application/pdf
Citation Information
E. Lenihan, L Pollak and Pamela J. White. "Thermal Properties of Starch from Exotic-by-Adapted Corn (Zea mays L.) Lines Grown in Four Environments"
Cereal Chemistry
Vol. 82 Iss. 6 (2005) p. 683 - 689
Available at: http://works.bepress.com/pamela_white/36/