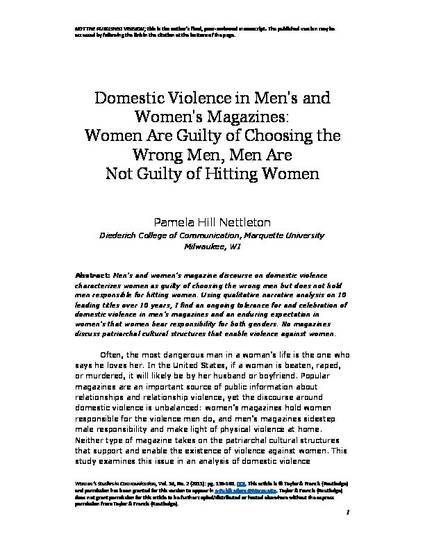 Article
Domestic Violence in Men's and Women's Magazines: Women Are Guilty of Choosing the Wrong Men, Men Are Not Guilty of Hitting Women
Women's Studies in Communication
Publication Date
1-1-2011
Publisher
The Organization for Research on Women and Communication (ORWAC)
Original Item ID
doi: 10.1080/07491409.2011.618240
Abstract
Men's and women's magazine discourse on domestic violence characterizes women as guilty of choosing the wrong men but does not hold men responsible for hitting women. Using qualitative narrative analysis on 10 leading titles over 10 years, I find an ongoing tolerance for and celebration of domestic violence in men's magazines and an enduring expectation in women's that women bear responsibility for both genders. No magazines discuss patriarchal cultural structures that enable violence against women.
Citation Information
Pamela Hill Nettleton. "Domestic Violence in Men's and Women's Magazines: Women Are Guilty of Choosing the Wrong Men, Men Are Not Guilty of Hitting Women"
Women's Studies in Communication
(2011) ISSN: 0749-1409
Available at: http://works.bepress.com/pamela_nettleton/9/