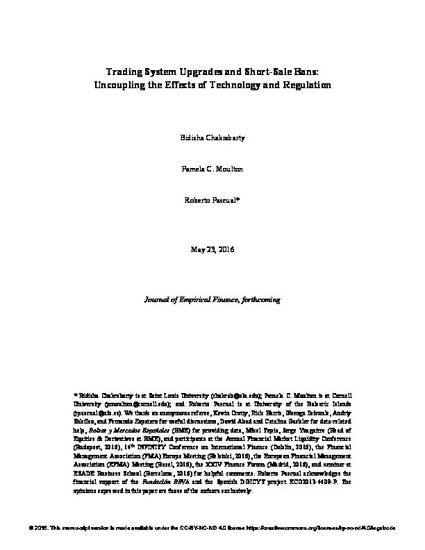 Article
Trading System Upgrades and Short-Sale Bans: Uncoupling the Effects of Technology and Regulation
Journal of Empirical Finance (2017)
Abstract
We examine the market quality effects of technology upgrades juxtaposed with short-sale bans. Between 2011 and 2013, the Spanish Stock Exchange introduced a smart trading platform (SIBE-Smart) and colocation to facilitate high-speed trading, and they also imposed two short-sale bans. We find that the SIBE-Smart introduction, which occurs between the two short-sale bans, leads to reduced market quality. The introduction of colocation, which occurs during the second short-sale ban, improves market liquidity although it does not attract additional high-speed trading. Our results highlight how the effects of latency-reducing infrastructure improvements depend on, and differ across, different regulatory regimes.
Keywords
technological upgrades,
SIBE-Smart,
colocation,
short-sale ban,
high-speed trading,
equity market liquidity,
JEL: G14,
JEL: L10
Publication Date
September, 2017
DOI
10.1016/j.jempfin.2017.05.004
Citation Information
Chakrabarty, B., Moulton, P. C., & Pascual, R. (2016). Trading system upgrades and short-sale bans: Uncoupling the effects of technology and regulation [Electronic version]. Retrieved [insert date], from Cornell University, School of Hotel Administration site: https://works.bepress.com/pamela_moulton/
Creative Commons license
This work is licensed under a Creative Commons CC_BY-NC-ND International License.