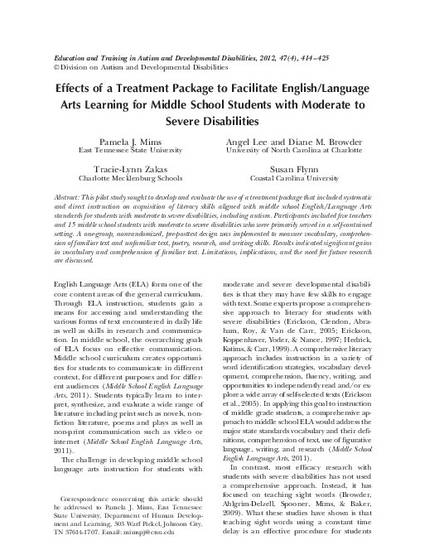 Article
Effects of a Treatment Package to Facilitate English/Language Arts Learning for Middle School Students with Moderate to Severe Disabilities
Education and Training in Autism and Developmental Disabilities
Publication Date
1-1-2012
Description
This pilot study sought to develop and evaluate the use of a treatment package that included systematic and direct instruction on acquisition of literacy skills aligned with middle school English/Language Arts standards for students with moderate to severe disabilities, including autism. Participants included five teachers and 15 middle school students with moderate to severe disabilities who were primarily served in a self-contained setting. A one-group, nonrandomized, pre-posttest design was implemented to measure vocabulary, comprehen- sion of familiar text and unfamiliar text, poetry, research, and writing skills. Results indicated significant gains in vocabulary and comprehension of familiar text. Limitations, implications, and the need for future research are discussed.
Posted Versions
Published PDF
Citation Information
Pamela J. Mims, Angel Lee, Diane M. Browder, Tracie-Lynn Zakas, et al.. "Effects of a Treatment Package to Facilitate English/Language Arts Learning for Middle School Students with Moderate to Severe Disabilities"
Education and Training in Autism and Developmental Disabilities
Vol. 47 Iss. 4 (2012) p. 414 - 425 ISSN: 2154-1647
Available at: http://works.bepress.com/pamela-mims/58/