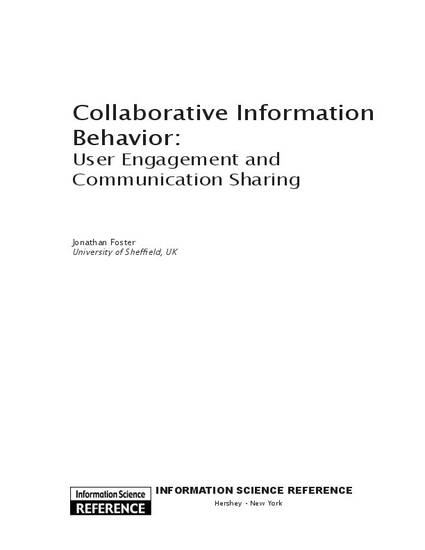 Contribution to Book
Informing Traces: The Social Practices of Collaborative Informing in the Midwifery Clinic
Collaborative Information Behavior: User Engagement and Communication Sharing
Document Type
Book Chapter
Publication Date
1-1-2010
Abstract
The concept of "traces" is useful for understanding the collaborative practices of informing. Readers of documents leave traces of their use, and institutional talk embeds traces of collaborative work, including work done and elsewhere and at other times. This chapter employs a multifaceted qualitative strategy of analytic bracketing to analyze traces in midwives' and clients' discussions of clinical results. Results are used to identify and evaluate trends in relation to the current case or to universal norms. Conflicting forms of evidence may need to be negotiated. Barriers may arise when results or sources are inadequate or unavailable. Midwives and women manage these barriers by flexibly assigning the role of information provider in official and unofficial ways. The analysis of traces provides insight into the hows and whats of collaborative work and reveals it to be a complex set of practices that go well beyond the immediately visible contributions of others.
Citation Information
Pamela J. McKenzie. "Informing Traces: The Social Practices of Collaborative Informing in the Midwifery Clinic"
Collaborative Information Behavior: User Engagement and Communication Sharing
(2010) p. 197 - 218
Available at: http://works.bepress.com/pam-mckenzie/23/