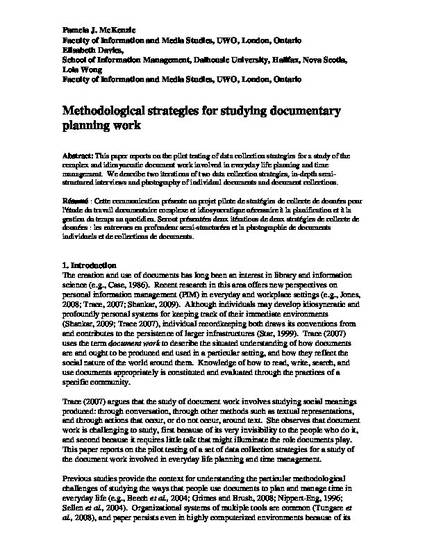 Article
Methodological Strategies for Studying Documentary Planning Work.
FIMS Presentations
Document Type
Conference Proceeding
Publication Date
1-1-2010
Abstract
This paper reports on the pilot testing of data collection strategies for a study of the complex and idiosyncratic document work involved in everyday life planning and time management. We describe two iterations of two data collection strategies, in-depth semi-structured interviews and photography of individual documents and document collections.
Cette communication prente un projet pilote de straties de collecte de donns pour l'ude du travail documentaire complexe et idiosyncratique nessaire la planification et la gestion du temps au quotidien. Seront prents deux itations de deux straties de collecte de donns : les entrevues en profondeur semi-structurs et la photographie de documents individuels et de collections de documents.
Citation Information
Pamela J. McKenzie, Elizabeth Davies and Lola Wong. "Methodological Strategies for Studying Documentary Planning Work." (2010)
Available at: http://works.bepress.com/pam-mckenzie/16/