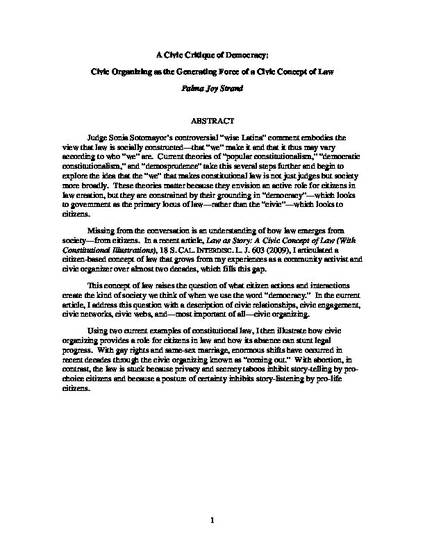 Unpublished Paper
A Civic Critique of Democracy: Civic Organizing as the Generating Force of a Civic Concept of Law
ExpressO (2009)
Abstract
A Civic Critique of Democracy: Civic Organizing as the Generating Force of a Civic Concept of Law Palma Joy Strand ABSTRACT Judge Sonia Sotomayor's controversial "wise Latina" comment embodies the view that law is socially constructed—that "we" make it and that it thus may vary according to who "we" are. Current theories of "popular constitutionalism," "democratic constitutionalism," and "demosprudence" take this several steps further and begin to explore the idea that the "we" that makes constitutional law is not just judges but society more broadly. These theories matter because they envision an active role for citizens in law creation, but they are constrained by their grounding in "democracy"—which looks to government as the primary locus of law—rather than the "civic"—which looks to citizens. Missing from the conversation is an understanding of how law emerges from society—from citizens. In a recent article, Law as Story: A Civic Concept of Law (With Constitutional Illustrations), 18 S. CAL. INTERDISC. L. J. 603 (2009), I articulated a citizen-based concept of law that grows from my experiences as a community activist and civic organizer over almost two decades, which fills this gap. This concept of law raises the question of what citizen actions and interactions create the kind of society we think of when we use the word "democracy." In the current article, I address this question with a description of civic relationships, civic engagement, civic networks, civic webs, and—most important of all—civic organizing. Using two current examples of constitutional law, I then illustrate how civic organizing provides a role for citizens in law and how its absence can stunt legal progress. With gay rights and same-sex marriage, enormous shifts have occurred in recent decades through the civic organizing known as "coming out." With abortion, in contrast, the law is stuck because privacy and secrecy taboos inhibit story-telling by pro-choice citizens and because a posture of certainty inhibits story-listening by pro-life citizens.
Keywords
democracy,
concept of law,
gay rights,
gay marriage,
abortion
Publication Date
August 25, 2009
Citation Information
palma joy strand. "A Civic Critique of Democracy: Civic Organizing as the Generating Force of a Civic Concept of Law"
ExpressO
(2009)
Available at: http://works.bepress.com/palma_strand/1/