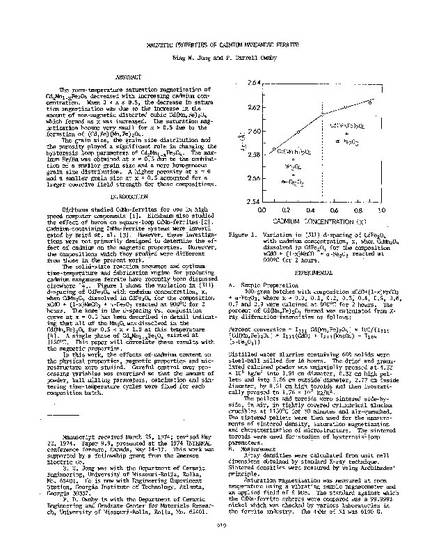 Article
Magnetic Properties of Cadmium Manganese Ferrite
IEEE Transactions on Magnetics
Abstract
The room-temperature saturation magnetization of CdxMn1-xFe2O4 decreased with increasing cadmium concentration. When 0 < x < 0.5, the decrease in saturation magnetization was due to the increase in the amount of non-mgnetic distorted cubic Cd(Mn, Fe) 2O4.
Department(s)
Materials Science and Engineering
Keywords and Phrases
Cadmium Manganese Ferrites,
Manganese Cadmium Ferrites
Document Type
Article - Journal
Document Version
Final Version
Rights
© 1974 Institute of Electrical and Electronics Engineers (IEEE), All rights reserved.
Publication Date
1-1-1974
Citation Information
B. W. Jong and P. D. Ownby. "Magnetic Properties of Cadmium Manganese Ferrite"
IEEE Transactions on Magnetics
(1974) ISSN: 0018-9464
Available at: http://works.bepress.com/p_ownby/156/