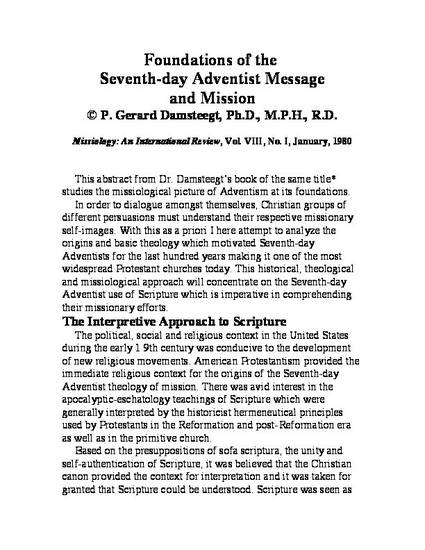 Article
Foundations of the Seventh-day Adventist Message and Mission
Missiology: An International Review (1980)
Abstract
This abstract from Dr. Damsteegt's book of the same title*
studies the missiological picture of Adventism at its foundations.
In order to dialogue amongst themselves, Christian groups of
different persuasions must understand their respective missionary
self-images. With this as a priori I here attempt to analyze the
origins and basic theology which motivated Seventh-day
Adventists for the last hundred years making it one of the most
widespread Protestant churches today. This historical, theological
and missiological approach will concentrate on the Seventh-day
Adventist use of Scripture which is imperative in comprehending
their missionary efforts.
Publication Date
January, 1980
Citation Information
P. Gerard Damsteegt. "Foundations of the Seventh-day Adventist Message and Mission"
Missiology: An International Review
Vol. 8 Iss. 1 (1980) p. 71 - 82
Available at: http://works.bepress.com/p_gerard_damsteegt/41/